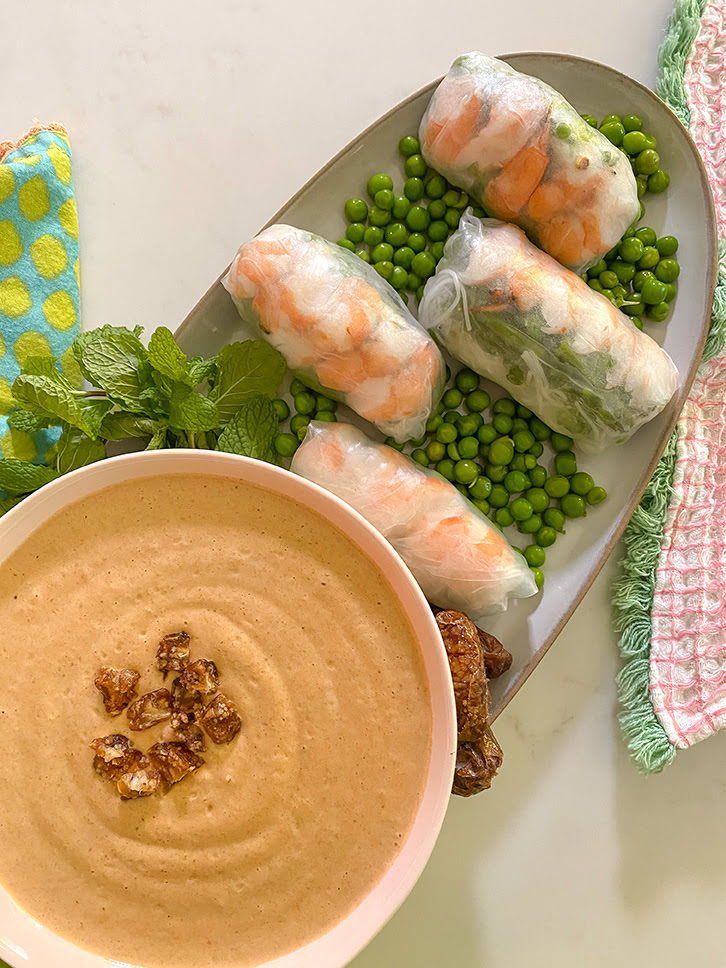 Springtime Spring Rolls with Date-Tahini Sauce
Ingredients
Date-Tahini Sauce
1/2 to 1 cup boiling hot water
1/2 cup tahini
7 California Dates, pitted and soaked in hot water for 10 minutes
2 tablespoons rice wine vinegar
2 tablespoons lemon juice
2 teaspoons soy sauce
2 cloves garlic, minced
1-inch thumb ginger, minced
Optional: 1 Fresno pepper, minced
Spring Rolls
1 3.5-ounce package rice vermicelli noodles (sometimes labeled maifun or bifun)
16 round rice paper sheets (spring roll wrappers)
1/2 pound easy-peel shrimp, cooked and peeled
1 small bunch thin asparagus, blanched, chilled, cut into 2-inch lengths
1 cup English peas, cooked and chilled
Arugula or micro-arugula
1 lemon, cut into wedges
Small handful green olives, pitted and sliced in half (recommended: castelvetrano)
Small handful pistachios, toasted and minced
Fresh mint leaves
3-4 radishes, thinly sliced on a mandoline
Directions
1) Make dipping sauce: pour 1/2 cup hot water into your blender first, then add remaining ingredients. Blend until smooth, adding more hot water if necessary to achieve desired consistency. Pour into a bowl and set aside.
2) Bring a medium saucepan of water to a boil over high heat. Season water very generously with salt. Add rice vermicelli, and cook for about 2 minutes (or according to directions on the package), then drain in a colander, and rinse with cold water. Remove to a kitchen towel or paper towel lined baking sheet to cool and dry off. Snip into about 2-inch lengths with a pair of scissors.
3) Slice shrimp in half horizontally. Then slice each piece into three on the diagonal. Set aside.
4) To assemble the rolls, grab a large shallow dish or skillet. Fill with hot water (a little hotter than bath water). Slide one spring roll wrapper into the water, and submerge for about 5 seconds. Place on a large plate, then start building your ingredients.
5) First lay down a few pieces of shrimp. Top with asparagus, a small handful of peas and arugula. Squeeze a few drops of lemon over the top. Now add 3-4 pieces of green olive, sprinkle with a little pistachio, then add about 3 tablespoons of noodles. Finish with 2 to 3 mint leaves and a couple of slices of radish.
6) To roll, pull bottom end up and over the stuffing. Roll away from you, holding stuffing with your fingers. Fold outer ends of the wrapper toward the center, then continue to roll. Place onto serving platter and repeat with remaining wrappers and filling ingredients. Serve with the sauce (if you find that sauce that tightened up too much, whisk in a little more hot water).