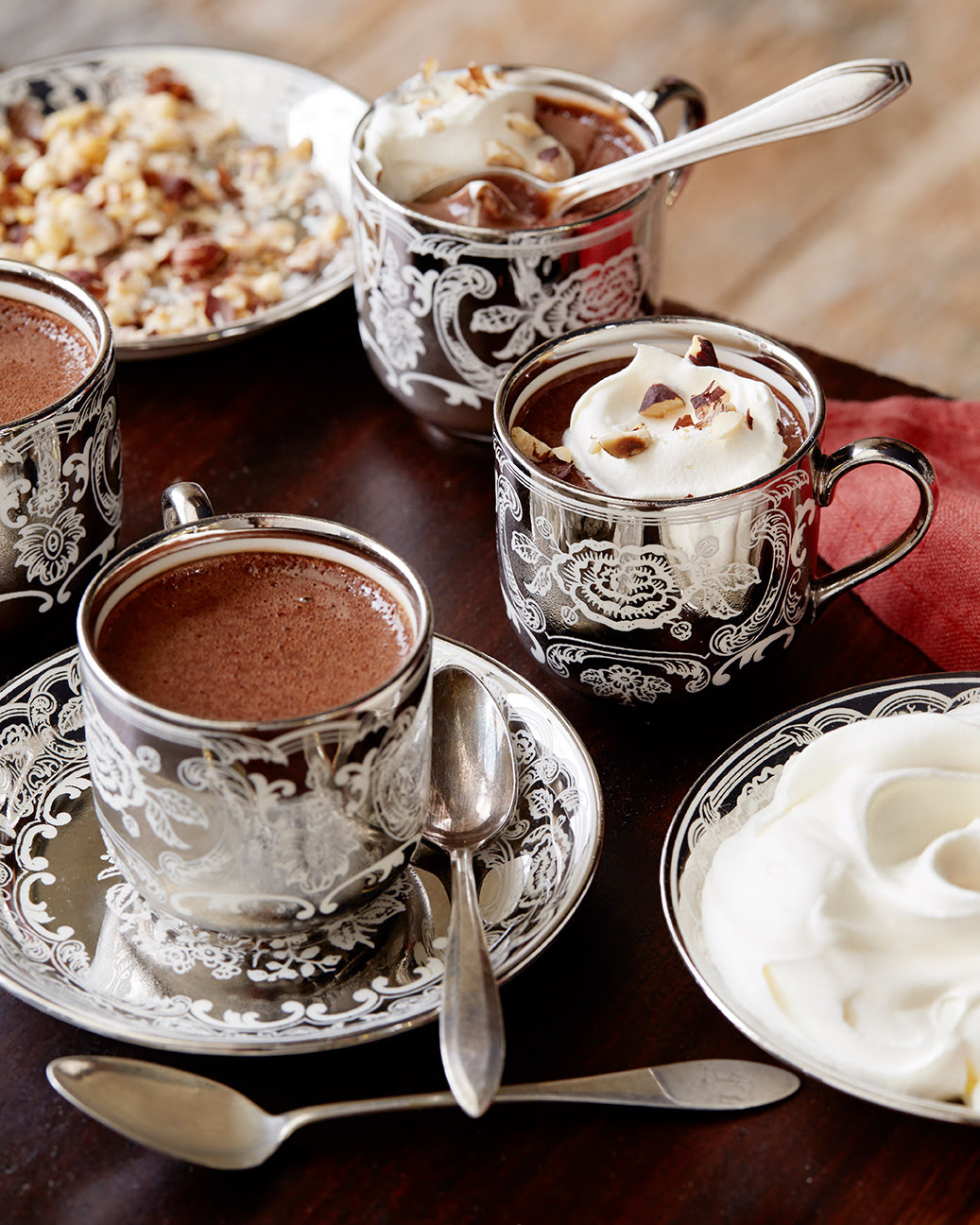 Ingredients
1 cup Nutella
3 ounces semisweet chocolate, chopped
1½ cups whole milk
1 cup heavy cream
6 large egg yolks
¼ cup granulated sugar
¾ teaspoon kosher salt
1½ to 2 teaspoons Siracha
½ teaspoon pure vanilla extract
½ teaspoon instant espresso powder, dissolved in 1 tablespoon of water (optional)
Whipped cream or crème fraîche, for serving
Grated chocolate or cocoa, for serving
Minced hazelnuts, for serving
Sea Salt, for serving
Directions
PREP
1) Set6 (8-ounce) ramekins/cocottes/teacups/glasses on a baking sheet
2) Spoon Nutella into your blender.Add chopped chocolate
MAKE THE CUSTARD
1) In medium saucepan, whisk together milk, heavy cream, egg yolks, sugar, and salt over medium heat.Cook, stirring constantly for 8 to 10 minutes
Tip: I like to use a flat-bottomed wooden spatula so that I can make sure the eggs aren't catching on the bottom and cooking.
2) Cook until the custard thickens, resembling something like very thick paint.It should register between 175 and 180 degrees Fahrenheit on an instant-read thermometer. Another test: The custard should coat the back of the spatula, and when you draw a line across the back of the spatula with your (clean!) finger, the line should hold and maintain its edges without running.
3) Remove from heat immediately.
STRAIN & BLEND
1) Pour the warm custard through a strainer into the blender.
2) Add sriracha, vanilla and dissolved espresso powder.Let it sit 5 minutes to melt the chocolate.
3) Put the lid on the blender, hold down with a thick kitchen towel, and blend on low, then high, until smooth and combined, scraping down sides if necessary. Taste for seasoning.
ASSEMBLE
1) Pour the custard into your containers, tapping them against the rim of the baking sheet to remove air bubbles.
2) Pop them in the fridge and chill for about 3 hours, until the custards are set.
FINISHING TOUCHES
Top with whipped cream or crème fraiche, some grated chocolate and minced hazelnuts. A little sea salt would be nice too.
Active Time: 20 minutes
Inactive Time: 3 hours