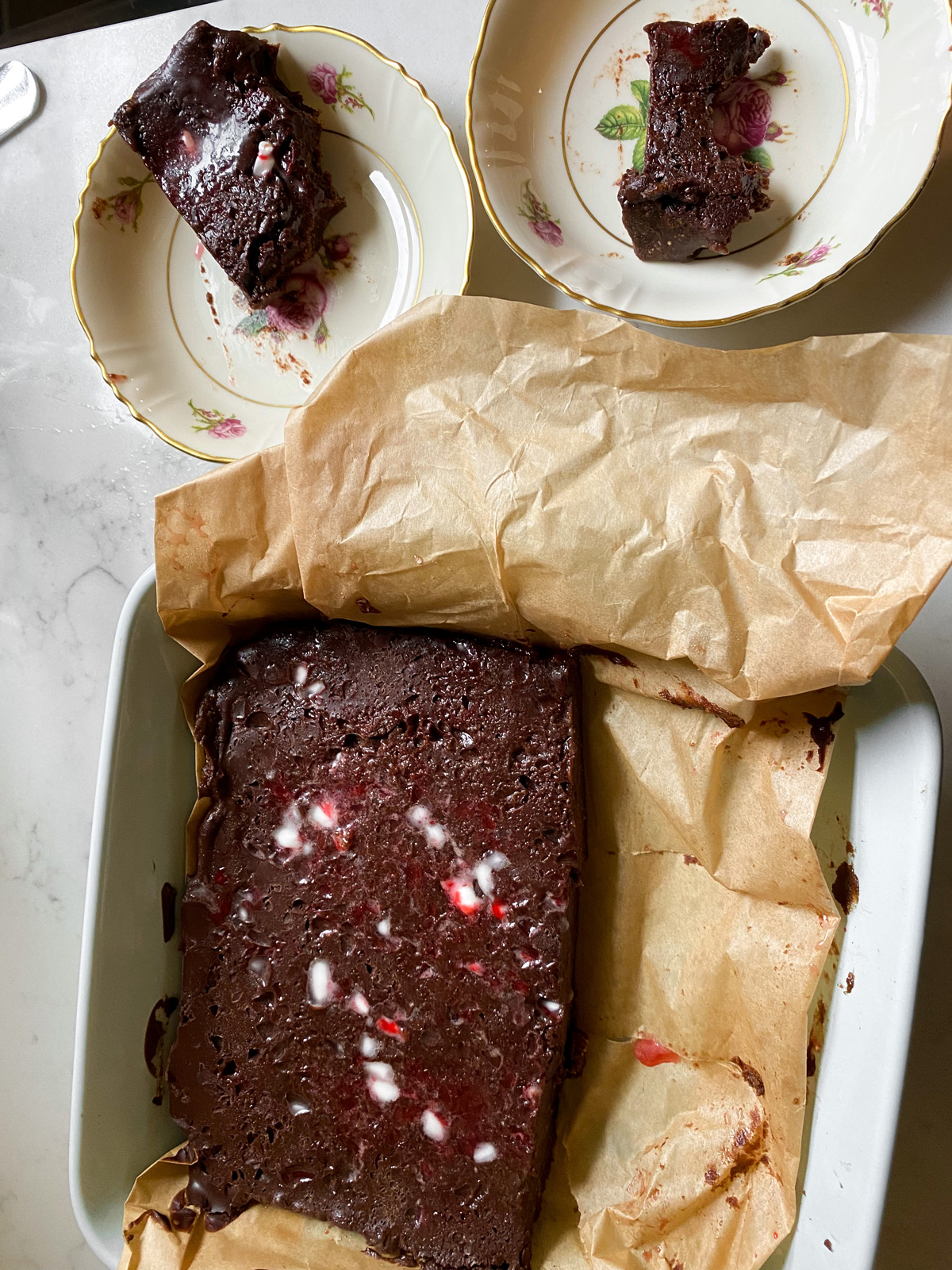 No Bake Date Peppermint Brownies
Ingredients
For the "brownies":
16 large California dates (about 300g or 2 1/3 cups)
1/2 cup (120g) toasted pecans
1/2 cup (120g) toasted pistachios
2/3 cup (75g) rolled oats
1/4 cup cocoa powder
1 1/2 tablespoons coconut oil
2 teaspoons milk
Pinch of kosher salt
Ganache topping:
1/2 cup heavy cream
1 3-ounce bar of dark chocolate, finely chopped
3/4 teaspoon peppermint extract
3 candy canes, crushed into little pieces
Directions
1) Place dates in a medium bowl, cover with boiling hot water, and allow to sit for 10 minutes. Drain and set aside.
2) Process pecans, pistachios, oats, cocoa powder and a big pinch of salt in a food processor until you get a fine crumb. Tap out the mixture into a bowl.
3) Drop drained dates, coconut oil, milk and a pinch of salt into the food processor bowl. Process until a jammy paste forms. Now add the nut mixture and process until well combined.
4) Line a brownie tin with a sling of parchment paper. Scrape the date and nut mixture into the tin and level out with your spatula. Pop into the freezer while you make the ganache topping.
5) Bring heavy cream to a boil in a small saucepan. Place chocolate in a small heat-resistant measuring cup. Pour hot cream over the hot chocolate, cover with plastic wrap and allow to sit for 5 minutes.
6) Whisk chocolate and cream together, then whisk in the peppermint extract along with a pinch of salt.
7) Pull brownies out of the freezer. Pour chocolate mixture over the top, and level out with a spatula. Sprinkle with crush candy canes and freeze for 30 minutes until set. Cut into little squares and serve! Store in the fridge.