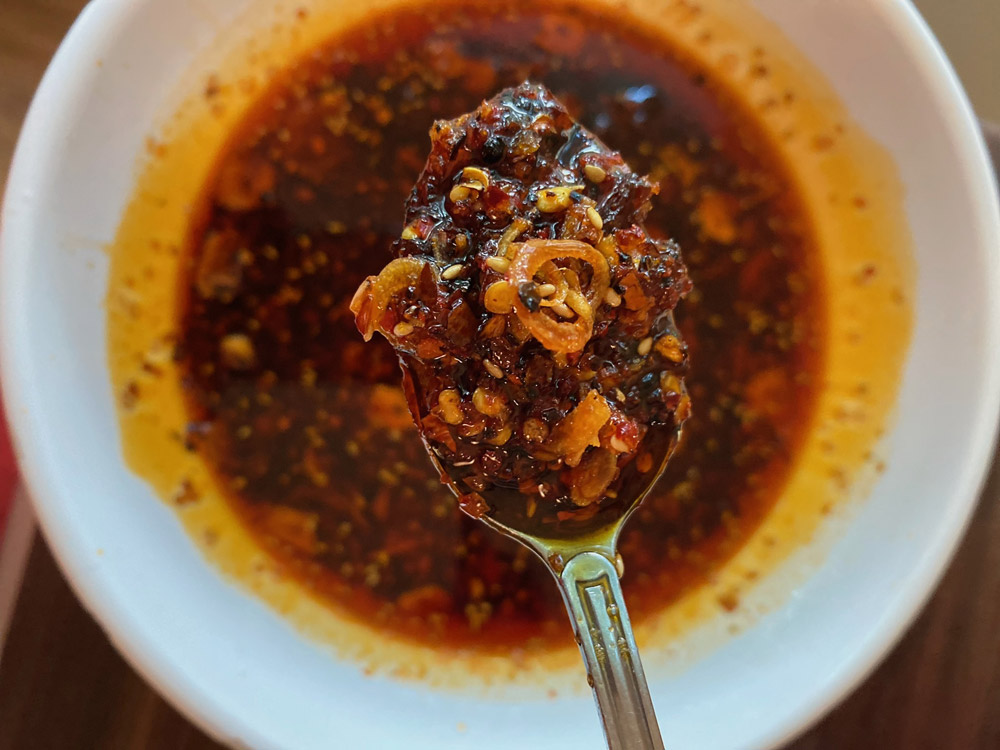 Ingredients
2 California dates, pitted and minced
4 tablespoons gochugaru (Korean chile flakes)
2 tablespoons red chili flakes
1 tablespoon urfa chili (see Cook's Note)
2 tablespoons fried sliced shallots (homemade or store-bought)
2 tablespoons fried minced garlic
1 tablespoon minced fresh ginger
1 tablespoon toasted walnuts, finely chopped
1 tablespoon toasted sesame seeds
1 whole star anise
1 whole black cardamom, crushed
1/4 teaspoon crushed Szechuan peppercorns
1 chicken bouillon cube, crumbled finely
1 1/2 cups neutral oil such as avocado or vegetable oil
4 cloves fresh garlic, peeled and thinly sliced
CHILI CRISP
50g (1.25 oz) dried red chillies* (I used Chinese dried red chillies I found in my local Asian grocery store, which were labelled as medium in heat. You could use whatever dried chillies you have in your area and choose how hot you'd like them.)
2 tablespoons crispy fried shallots
1 1/2 tbsp crispy fried garlic
1 whole star anise
2 green cardamom pods, crushed
1 tbsp finely chopped ginger
2 dates, minced
1 tbsp sea salt
1 chicken stock cubes, crumbled
4 garlic cloves, finely sliced
1 1/2 cups sesame oil (not toasted!)
Additions:
Minced walnuts
Cumin seeds
Szechuan peppercorns

Directions
1) Pop dates, chilis, shallots, garlic, ginger, walnuts, sesame, star anise, cardamom, Szechuan peppercorn and bouillon cube in a large bowl.
2) Pour oil into a small saucepan. Add sliced fresh garlic. Turn heat to medium-low, and cook until garlic is just starting to brown. Remove from heat immediately and set aside for 5 minutes because the garlic will continue to brown! We want golden brown garlic chips. You can return the saucepan to the heat if your garlic is still a bit blonde but watch it closely because it can burn in a heartbeat!
3) Once garlic is perfectly golden brown, pour the oil and the garlic over all the date-chili mixture. It should sizzle and release it's beautiful aroma! Stir well. Now, it's up to you: you can season with salt or leave it alone based on how you think you'll use it. If you want to salt it, you'll need about a teaspoon of kosher salt.
4) Pour into a jar and store in the fridge for up to a month.