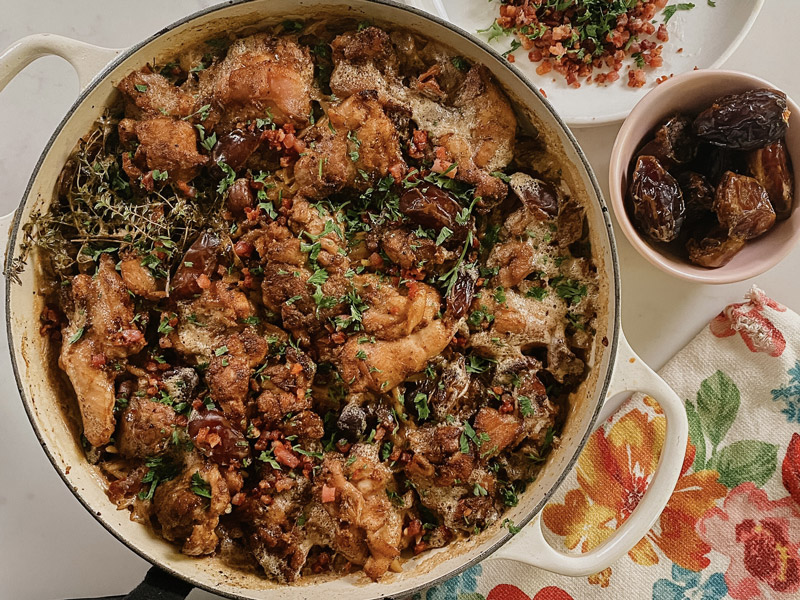 One Pot Date, Chestnut and Chicken with Orzo
Cooks note: I find packages of cooked chestnuts in Asian grocery stores year-round, but they also start to appear around the holidays at shops like Trader Joe's. As always, you can order them online, and they keep for a long time!
Ingredients
4oz pancetta, chopped (can sub with bacon)
2lbs boneless, skinless chicken thighs, excess fat removed
2 teaspoons smoked paprika
1 teaspoon garam masala
1 teaspoon ground fennel seeds
1/2 teaspoon granulated sugar
3/4 large yellow onion, diced
4 cloves garlic, minced
1/2 cup hard cider (sub: white wine, water with 1 tablespoon of vinegar)
1 pound orzo pasta (about 2 1/2 cups)
2 3/4 cups chicken broth
1 cup heavy cream
1/2 cup chopped California dates
1/2 cup chopped peeled and steamed packaged chestnuts (see cook's note)
Handful of fresh thyme
Handful minced parsley to garnish
Directions
1)Set large skillet over medium low heat and add pancetta. Cook until crispy and browned. Remove pancetta from rendered fat and set aside.
2)In a large bowl, sprinkle chicken thighs with smoked paprika, garam masala, ground fennel, sugar and season liberally with kosher salt and freshly ground black pepper. Drizzle with neutral oil of your choice (I use avocado). Massage spice paste well into the chicken.
3)Add a little more avocado oil to the skillet and increase heat to medium high. Once oil is shimmering, add chicken thighs one by one, being sure not to crowd the pan. Cook until browned on bottom, then flip and cook on the remaining side. Don't worry if the chicken isn't cooked all the way through. Remove chicken from the skillet.
4)Now add onions and garlic. Cook until softened, about 5-10 minutes.
5)Pour in hard cider, and stir, scraping up browned bits on the bottom of the pan. Cook until most of the liquid has evaporated, about 5 minutes.
6)Now add orzo, and stir to cover every bit in the onions and garlic mixture. Cook, stirring every now and then until orzo deepens a little in color.
7)Now add chicken broth, heavy cream, California dates and chestnuts. Stir well. Add bunch of thyme. Lay chicken thighs on top. Bring to a boil, then turn down to the barest simmer and cook 20 minutes, until pasta is tender. Garnish with crispy pancetta and parsley. Serve!