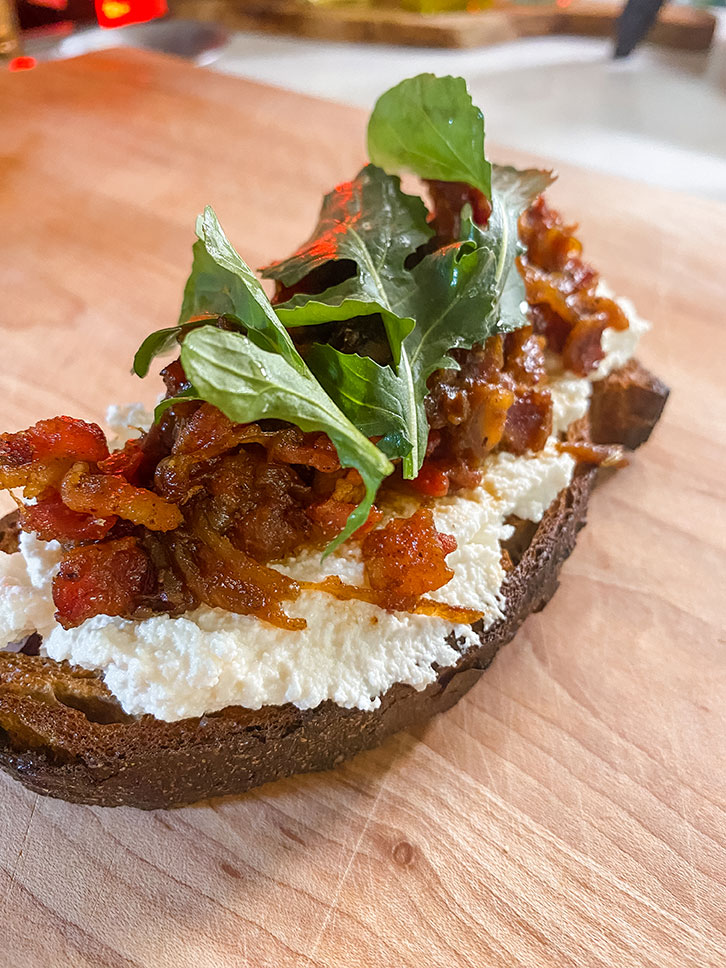 Ingredients
1-pound uncured smoked bacon, chopped
1 large yellow onion, thinly sliced
1 tablespoon ginger garlic paste
1/4 teaspoon Kashmir chili powder (can substitute cayenne pepper)
3/4 teaspoon garam masala
Big pinch of whole fennel seeds
6 to 7 large Medjool dates, pitted and roughly chopped
Big splash of rye whiskey
2 teaspoons red wine vinegar
Hot water

Directions
1) Set a large stainless steel skillet over medium-low heat. Add the bacon, and cover with water. Cook, stirring often, until water evaporates and bacon is just crispy. Remove from the pan with a slotted spoon, to a paper-towel lined plate. Remove all but about 2 tablespoons of bacon fat. Reserve remaining fat for another use.
2) Add sliced onions, sprinkle with a little salt and cook, stirring often, until golden brown.
3) Now add ginger-garlic paste, Kashmir chili powder, garam masala and fennel seeds. Saute for about 30 seconds until spices are fragrant.
4) Stir in the dates. Then, off heat, add the rye whiskey. Return to the heat and cook until evaporated.
5) Add bacon back in, along with red wine vinegar and a splash of hot water to loosen up the consistency. Taste for seasoning.
Serving suggestion: Toast a piece of sourdough, spread with a big dollop of ricotta cheese, then top with a spoonful of chutney and some arugula!