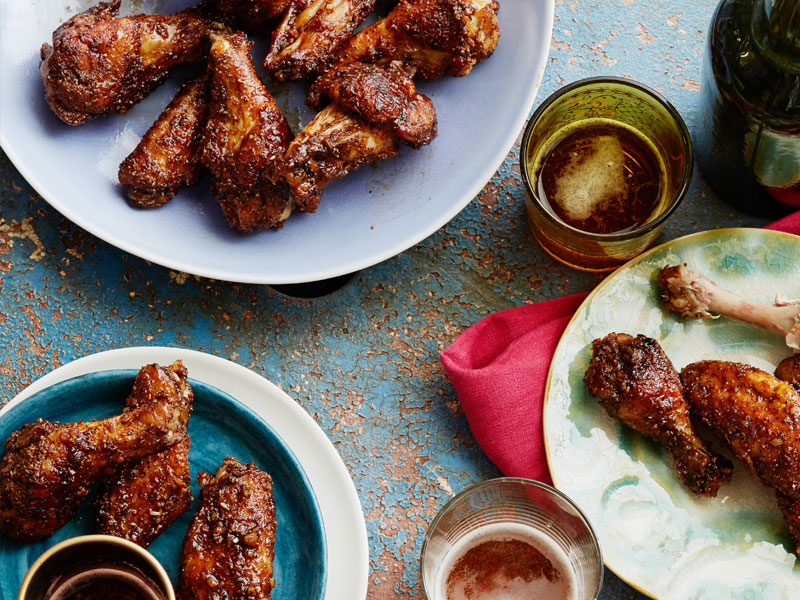 Pout-Plumping Wings
Spicy Pomegranate-Cardamom Chicken Wings
Yields 4 to 6 servings 2lb chicken wings (about 12)
Active time: 35 minutes
Inactive time: 40 minutes
Total time: 75 minutes with cooling
When it comes to sporting events, all I care about is the food I'm afraid...I just can't follow football, the American or the rest-of-the-world kind. I usually end up gazing at the player's muscles and that can't lead anywhere virtuous! What I can do is make sure that you're well fed whilst you're cheering your favorite team on to victory. I call these Spicy Chicken Wings "pout plumper wings" for the simple reason that they will make your lips tingle, and if you look closely enough, give you just a little bit of a Bridget Bardot-esque pout. Mais bien sur!
Note: Pomegranate molasses is available at Middle Eastern or Indian markets and at gourmet food stores. You can also make your own by boiling pure pomegranate juice with a little sugar until it's syrupy. Just make sure it's nice and cool before you use it.
Ingredients
Rub:
1 tablespoon coriander seeds
2 teaspoons cracked black peppercorns
8 green cardamom pods, cracked open, seeds removed, husks discarded
2 tsp cumin seeds
1 tablespoon dry mustard
2 teaspoons salt
Cooking spray or sunflower oil

Sauce:
1 tablespoon sunflower oil
4 cloves garlic, minced, about 2 tablespoons
2 teaspoons reserved spice mixture
2 teaspoons Sriracha (use more if you like it spicy!)
2 tablespoons Pomegranate molasses
2 tablespoons minced or torn mint leaves, from 2 sprigs
2 teaspoons lemon juice
2 tablespoons unsalted butter

Directions
Pat the chicken wings dry with paper towels very well; don't skip this step! This will both help the rub adhere, and ensure crispy skin!
Place a small but heavy skillet (I like using a small cast iron one) over medium heat. Add coriander seeds, cracked black peppercorns and whole cardamom pods. Toast, shaking pan often for about 1 minute.
Add cumin seeds and toast another minute until seeds have darkened, are fragrant and faintly smoking. Immediately transfer to a pestle and mortar or a spice grinder, allow to cool for a minute, then grind to a fine powder.
Now, grab a bowl large enough to hold all the wings. Before you add the wings, first pour freshly ground spice mixture into the bowl; add the mustard and the salt. Whisk to combine. Reserve 2 teaspoons of this mixture for the sauce.
Drop wings into the large bowl; toss to coat very well. Let these puppies sit for about an hour either on the counter or in the fridge.
When you're ready to cook, preheat your oven to 375 degrees Fahrenheit.
Line a baking sheet with parchment paper or foil. Place a wire rack over it, and grease with cooking spray (or brush with oil). Place the wings on the rack, at an even distance from each other. Bake in the oven for about 45 minutes, flipping the wings over halfway through, and rotating the baking sheet for even cooking.
As the wings are roasting away, make the sauce: In a small saucepan over medium heat, warm the oil until shimmering. Add the garlic, and cook for about 30 seconds. Then add the reserved spice mixture; cook another 30 seconds. Then add Sriracha sauce, pomegranate molasses and mint leaves. Stir, and cook for about 5 minutes, before finishing with the butter and the lemon juice. Stir. Taste for seasoning and set aside off heat.
When the wings are done, toss with the sauce. Avoid the temptation to eat them all yourself. Serve, and let the games begin!