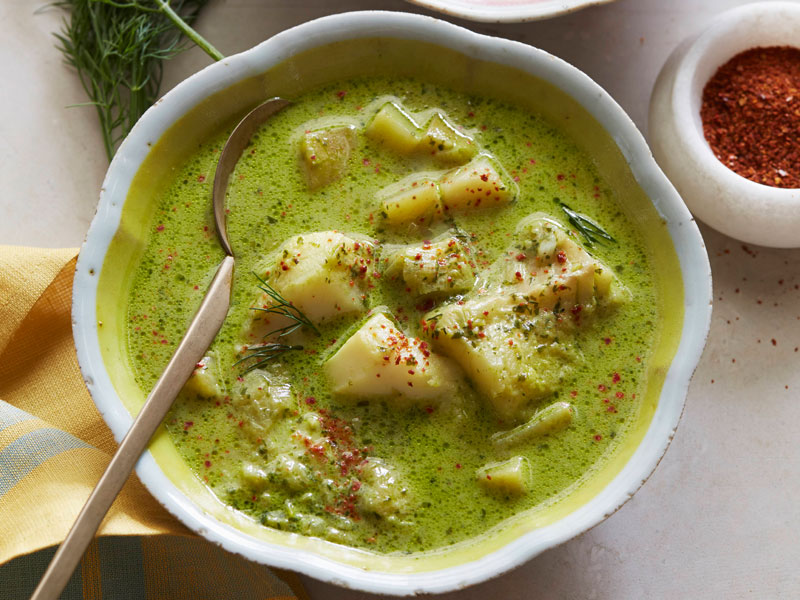 Fish Chowder For The Idea Man
Yields 4-6 servings
Active time: 40 minutes
Total time: 40 minutes
Little known fact...my husband, Brendan, actually comes up with a lot of my recipe ideas. He doesn't help me figure out how to actually make them, but his palate is so imaginative that when I'm stuck in a rut, he's able to knock the walls down and come up with new ideas. In fact, he is such an idea man (no matter WHAT the subject), that on his business card, it says: "Brendan McNamara: Actor, Writer, International Man of Consultation." Isn't that hilarious? This chowder was his idea, spun out of his memories of eating fish chowder during his childhood in Maine and Massachusetts.
Ingredients
Masala:
4 cups (loosely packed) cilantro leaves and soft stems, 1 hearty bunch
1/2 cup fresh dill, leaves and soft stems, plus a little more for garnish
8 cloves garlic, peeled and roughly chopped (about 1/4 cup)
2 thumbs ginger, peeled and chopped (about 1/4 cup)
1/2 teaspoon garam masala
1/2 teaspoon ground cumin
1/4 teaspoon turmeric
2 teaspoons extra virgin oil

Soup:
1 tablespoon olive oil
1 tablespoon ghee or butter
2 to 3 leeks, whites and tender light greens, sliced into ¼-inch thin half moons (2 1/2 cups)
1 pound Yukon gold or red skinned potatoes, peel on, cut into 1/2-inch cubes (from 3 large spuds, about 4 cups)
1 serrano pepper, sliced 3/4 of the way up, keeping stem attached
1 15-ounce can full-fat coconut milk
1 1/2 pounds cod fillets, cut into 6 equal portions
Salt and pepper
Aleppo pepper or red chile flakes to garnish

Directions
Pulse herbs, garlic, ginger, spices, sunflower oil and some generous pinches of salt in a food processor until finely minced. Set aside.
In a large Dutch oven set over medium heat, warm the oil and ghee or butter. Add leeks, season with salt and cook, stirring often, until softened, but not browned, about 2-3 minutes. Now add the cilantro-dill masala, potatoes and Serrano pepper. Turn up the heat a little and sauté about 5 minutes until very fragrant.
Now add coconut milk and 3 cups of water. Season with salt and pepper. Turn heat up, cover and bring to a boil. Now turn down to a simmer, and cook, covered, about 10 minutes until potatoes are cooked through.
Turn heat off and carefully lay fish in the soup, making sure each piece is fully submerged. Cover and let sit for 10 minutes, until fish is cooked through. Stir gently to break up the fish. Taste for seasoning, and serve with your leftover dill sprigs (I like to leave them whole) and a flurry of Aleppo pepper.