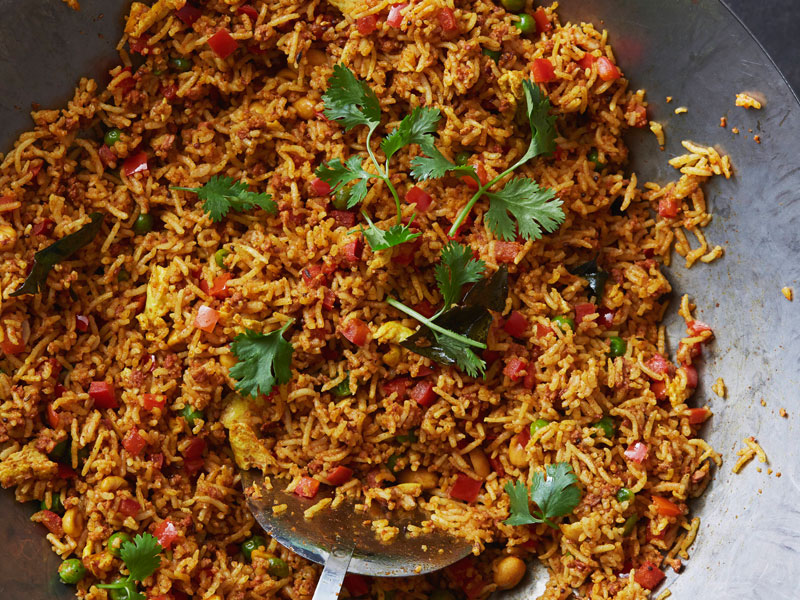 Lucia-Lucica Fried Rice
Indian Style Fried Rice with Chorizo, Peanuts and Mustard Seeds
Yields 4 servings
Active time: 20 minutes
Total time: 20 minutes
My grandmother, Lucia, created a "Jiffy Pulao" (old rice stir fried with peanuts, mustard seeds and garlic), out of necessity. Here's how my mum tells it:
"In those days, for most Indians, having a refrigerator at home was a luxury. Mum's way of using the leftover rice was making a quick pulao for us, which was precious to us as it was very rare that she would cook us something like this. One day she gave it away to a poor beggar woman, who was hungry and begging for food, and this was a sacrilege for us children!"
This is my version, a culinary meeting of the minds with a granny I never met, to which I named Lucia-Lucica Fried Rice after her.
Aarti tip: Be sure to use cold leftover rice! The fresh, hot stuff is too soft and will turn into starchy mush!
Ingredients
1 teaspoon sunflower oil + 1 tablespoon extra
1 egg, lightly beaten
2 medium red bell peppers, diced (a little over 1 cup)
1 10-ounce tube Mexican-style chorizo
2 cloves garlic, crushed and peeled
1/2 teaspoon cumin seeds
1/2 teaspoon brown or black mustard seeds
1 sprig curry leaves, leaves only (optional)
1/4 cup peanuts (any kind, roasted, salted, unsalted etc)
1/3 cup frozen peas
3/4 teaspoon ground turmeric
4 cups cold, cooked basmati rice
Juice of half a lemon
Small handful of cilantro

Directions
Place a large nonstick wok or skillet over medium heat, with 1 teaspoon of oil in it. When warm, add beaten egg. Allow a thin omelet to form, then break it up, cook through and remove from the pan.
Now add the chorizo, breaking up the meat with a wooden spatula. Cook until some of the oil starts sizzling around the edges, about 2 minutes. Add the bell peppers and cook, stirring only every now and then, until chorizo crisps up a little, about 5 minutes. Remove from pan.
Wipe out pan with a paper towel, turn up heat to medium high, add 1 tablespoon oil. When shimmering, add garlic, cumin seeds and mustard seeds, which should sizzle immediately. When mustard seeds start to pop, arm yourself with a lid, and add the curry leaves, covering immediately to protect yourself! As popping subsides, add peanuts, peas and turmeric and stir fry for about 1 minute until fragrant.
Finally, add rice, egg and chorizo-bell pepper mixture. Stir well and cook for 5 to 10 minutes, until warmed through. Finish with a squeeze of lemon juice and a flourish of cilantro. Serve immediately.