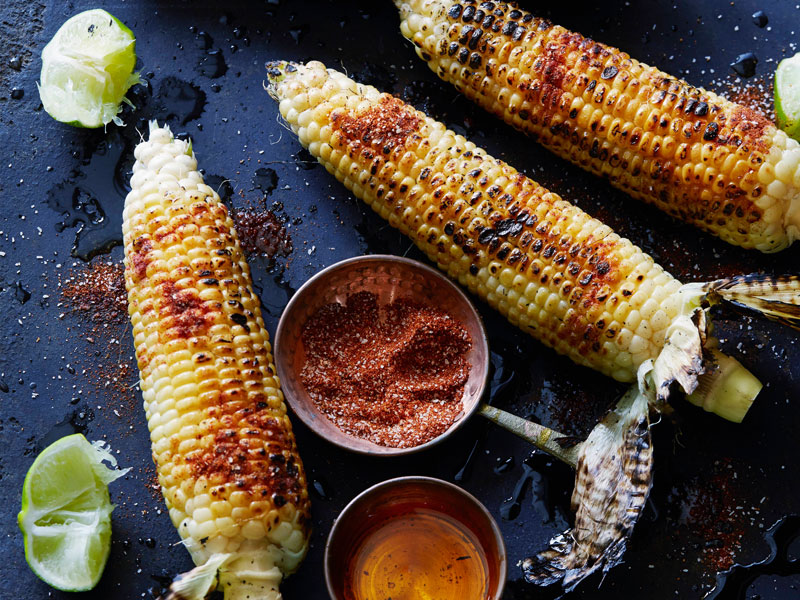 Indian Street Corn
Blistered Corn on the Cob with Zesty Masala and Lime
Yields 4 servings
My youngest sister Crish lives in India with my parents. She was born when I was eleven, so I have a slightly maternal passion for her, having changed her diapers, fed her and watched in joy as she learned to walk and talk. While I hate that she's so far away, I do love that she's getting an experience that we never had: living in India. One day, she sent me a message bubbling over with excitement over how the wonders of Indian Street Corn. "With lots and lots of chaat masala!" she exclaimed. I recreated it that day in my kitchen, my way of shrinking the miles between us. I love that food can do that.
Note: Chaat masala is a complex mix of spices like black salt (an eggy, sour salt that breathes a little KAPOW! into grilled vegetables), dried mancho powder (amchur) and many more. I find mine at Indian markets, try the brand MDH. It's my favorite.
Ingredients
4 ears of corn
Ghee or butter, melted for slathering
2 limes, sliced into quarters
1 teaspoon paprika
1 teaspoon kosher salt
1/2 teaspoon chaat masala (optional)
1/8 teaspoon cayenne pepper

Directions
To cook the ears of corn on the grill, remove the husks until you reach the last layer. Leave that on. Grill, rotating every 5 minutes or so, until husks blacken and corn kernels underneath blacken too. Remove from heat, peel off husks and proceed. Alternatively, if you have a gas stove, do what I do: shuck corn completely. Turn burners on to high and place cook directly over the flame, rotating every 5 minutes or so, until ears are evenly blackened.
Meanwhile stir paprika, salt, chaat masala and cayenne pepper in a small bowl. Set aside on the dinner table along with limes.
Brush ears with melted ghee. Serve immediately, directing your guests to eat them like so: dip one side of the lime segment into the spice mixture, then squeeze and rub directly onto the cob. Repeat as you wish!