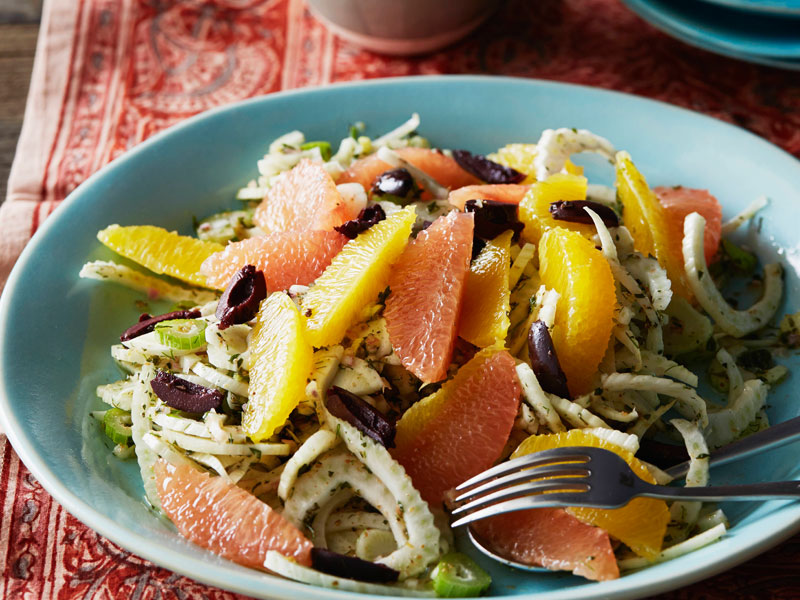 The Girly Salad
Fennel + Grapefruit Salad With Black Olives And Coriander Dressing
Yields 4 servings
Active: 15 minutes
Total time: 15 minutes
When I was pregnant with Eliyah, Bren and I didn't want to find out whether she was a boy or a girl. In an age where instant gratification is de rigeur, there was something hopelessly romantic to us about savoring the 9-month long mystery, much like our parents and grandparents did before us. We did speculate though, and one day, after I'd perfected this particular salad, Bren said, "that's a very girly looking salad." I posted the photo on Facebook, and a friend said, "does that mean you're having a girl?" We didn't know for sure at the time but, we did!!
Ingredients
1 medium to large fennel bulb
1 large ruby red grapefruit
1 large navel orange
5 to 6 pitted black olives, quartered lengthwise (I like the kind marinated in oil, but use whatever you like), about 2 tablespoons

Dressing:
1 1/2 teaspoons coriander seeds
2 tablespoons champagne vinegar (substitute: apple cider vinegar)
2 tablespoons minced shallot, about 1 small shallot
3 tablespoons extra virgin olive oil
2 tablespoons minced mint leaves
1 tablespoon minced fennel fronds
Directions
Trim fennel bulb: Slice off stalks near the bulb. Save some fennel fronds for the dressing. (Don't throw the stems away though; cut a thin slice and taste it. If you like it, then slice the rest of the stem similarly for the salad. If it's too woody for you, then discard it.) Slice root end off. Then, slice the bulb in half vertically. Now, either slice thinly by hand or using a mandolin (my favorite), slice against the grain into 1/8" slices. Drop into a large bowl.
Segment the citrus: Set a medium strainer over a bowl. To segment the citrus, first trim the top and bottom of the orange so it sits flat. Sit citrus on its now flat bottom. Moving your knife is a downward sawing motion and following the counter of the orange or grapefruit, slice off the rind and white pith in strips, moving around the circumference of the fruit until you have a perfectly peeled fruit! Holding the citrus over the strainer, slice between the membranes to release each segment into the strainer. Reserve about 2 tablespoons of the citrus juice (the rest of the it is a treat for the cook!).
Make the dressing: Set a small pan over medium heat, and add the coriander seeds. Toast, shaking the pan frequently until slightly darkened and fragrant. Coarsely grind in a pestle and mortar or spice grinder, and sprinkle into a small bowl. Add vinegar, shallots and a big pinch of salt. Let sit for 5 minutes, then add mint, fennel fronds and reserved citrus juice. Whisk in olive oil, season with salt and pepper. Toss fennel ribbons well in dressing. Taste and adjust seasoning accordingly.
Pour fennel onto a serving platter. Scatter citrus segments and olives over the top. Serve… to girls and boys!