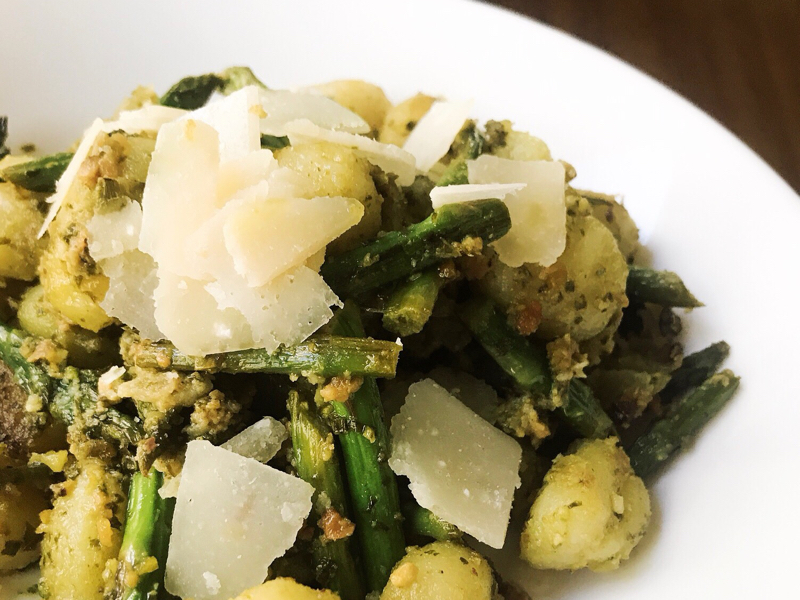 Pistachio Pesto Gnocchi With Asparagus
Hey friends! I've been nuts about pistachios lately so I wanted to share this super yummy Pistachio Pesto Gnocchi With Asparagus recipe with you. Its a perfect comfort dinner for Fall and totally delish — even my kids are lovin' it!
You'll need:
1/2 cup roasted unsalted pistachios
2 cups basil leaves, packed
1/3 cup minced chives
1 large clove garlic
Zest and juice of 1 large lemon
Pinch of sugar
A little over 1/2 cup extra virgin olive oil
2 packages Trader Joe's gnocchi
2 packages Trader Joe's asparagus, woody ends snapped off and sliced on the diagonal into 1-inch lengths
Fat of choice for sautéing (I like ghee and avocado oil)
Salt and pepper
Parmesan cheese for serving

Directions
Bring a large deep skillet of water to a boil over high heat.Meanwhile buzz pistachios, basil, garlic and a pinch of salt.Pour into a bowl, stir in chives, and half of the lemon zest and juice. Stir in olive oil and pinch of sugar. Season with salt and pepper, then taste for seasoning. Depending on the sharpness of your lemon, you may want to add more.When water is boiling, season assertively with salt. Drop gnocchi and stir. Cook according to package.Prep a baking sheet with many layers of paper towels. Fish out cooked gnocchi with a spider, and land on the paper towels. Save a little of the pasta water, and discard the rest.Wipe out skillet with paper towels, then set over medium heat with some fat of choice.When shimmering add asparagus, and cook, stirring frequently and shaking the pan, until vegetables are just shy of tender (they'll keep cooking as they sit). Remove to a plate.Add more fat to the pan, and when shimmering, add the gnocchi in an even later. Don't touch em! Let them brown then shake the pan and using a spatula, flip the gnocchi so you can brown the other side.Once browned, add the asparagus and pesto. Toss together, adding a little pasta water if the pesto is a little tight. Taste for seasoning, finish with a little Parmesan cheese and serve!