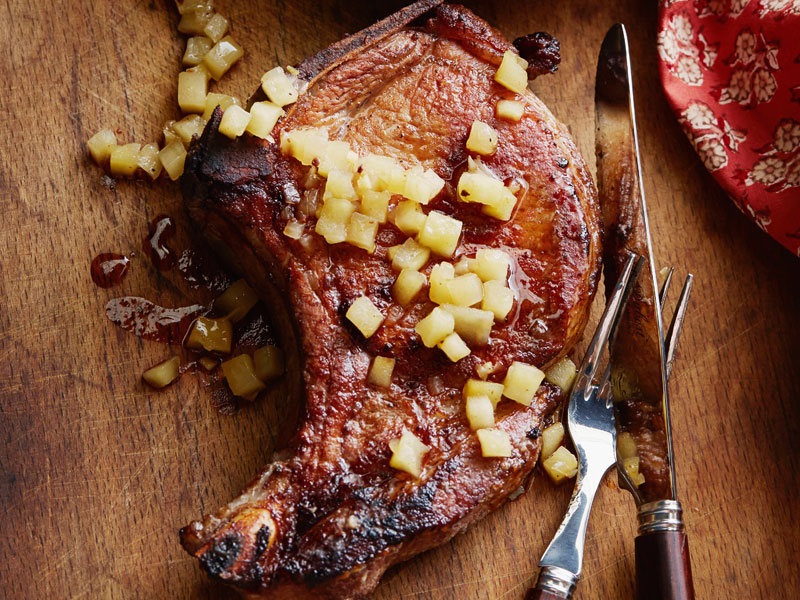 Chai Brined Pork Chops
with Spiced Apple Chutney
Yields 2-4 generous servings, 3 cups of chutney
Active time: about 1 hour
Inactive time: 6 plus hours
Total time: 7 hours
Say the word "pork" to a Mangalorean Catholic and you might just see their mouth begin to water, and perhaps a tear come to their eye. Ok, perhaps I exaggerate but only to stress how beloved this meat is to our community! It's always served on special occasions, from weddings to Christmas Day. I consider myself quite lucky to grow up in Dubai, where despite living under Muslim law which designates pork as unclean, it was still allowed to be sold to non-Muslims. Other countries in the Middle East weren't so lenient! If you're not a pork-eater, don't skip this brine. It's wonderful on bone-in chicken and turkey!
Ingredients
Brine + chops
8 green cardamom pods
1 teaspoon fennel seeds
1 2-inch cinnamon or cassia stick
1-inch piece ginger, sliced into coins
12 black tea bags
1/4 cup sugar
1/2 cup kosher salt
2 center-cut, bone-in pork chops, about 1-inch thick, about 1 ½ pounds
2 cups ice cubes
Extra ghee for searing pork chops

Chutney:
2 tablespoons ghee or butter
1/4 teaspoon fennel seeds
1 medium yellow onion, finely chopped (about 1 cup)
4 medium Granny Smith apples, peeled, cored, 1/4-inch cubes (about 1.5 pounds), 4 cups
1 teaspoon garam masala
1/4 cup whiskey or rum
1 tablespoon minced ginger
1/4 cup sugar
2 tablespoons apple cider vinegar

Directions
Make brine: Bring 3 cups of water to boil in a medium saucepan. Meanwhile, coarsely grind cardamom pods, fennel seeds and cinnamon stick in a spice grinder. When water has come to a boil, turn off the heat, sprinkle in the spice mixture, ginger coins and add the tea bags. Let the whole lot steep for about 10 minutes. Then, pluck out the tea bags, but leave the spices and ginger in the tea. Dissolve salt and sugar in the tea, then pour into a very large nonreactive bowl. Stir in the ice cubes until the brine is quite cold. Stir in another 3 cups of cool water, then nestle the pork chops in the brine; top with a plate to keep them submerged if necessary. Cover with plastic wrap, and refrigerate for 6 hours or up to overnight.
Make the chutney: Heat ghee in a medium saucepan over medium heat. Add the fennel seeds and the onion, along with a pinch of salt. Stir then cover for 3 minutes, or until onions have softened and turned translucent. Uncover and sauté until golden brown around the edges, about 5 more minutes. Now add the apples, garam masala, whiskey or rum, ginger, sugar and apple cider vinegar. Stir together, carefully, so as not to break up apples. Cook until sugar has melted, then turn heat down to medium-low, and cook uncovered for about 15 minutes, stirring occasionally, until apples are tender and most of the liquid has absorbed/reduced. Set aside.
Cook pork chops: Preheat your oven to 375 degrees Fahrenheit. Pull the pork chops out of the brine and thoroughly pat dry with paper towels. Set a large cast-iron skillet over medium-high heat and add 2 teaspoons ghee or sunflower oil. When shimmering, carefully lay the pork chops down and cook until a pretty chestnut brown crust forms on the bottom, about 4 minutes. Flip, cook another minute to get that crust going and then slide into the oven, cooking about 8 minutes or until the center reaches an internal temperature of 135 to 140 degrees Fahrenheit. Remove from the pan, and set aside on a warm platter, tented loosely with foil to rest another 5 minutes. Serve immediately with the warm whiskey chutney.