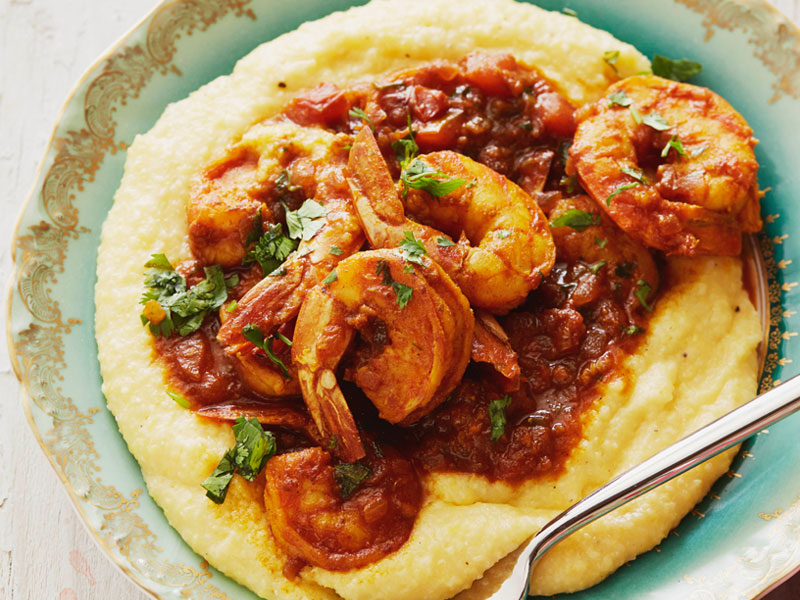 Masala Shrimp 'n' Grits
Shrimp in Tomato Curry over Cheese-y Grits
Yields 4 to 6 servings
Active time: about 1 hour
Inactive time: 6 plus hours
Yes, there are quite a few ingredients here...yes, it might take you a little while to make this, but no, do not scroll to the next page without promising to make this Masala Shrimp 'n' Grits dish for you and the ones you love. Let me tell you...it is so worth every second! This dish expresses everything I love about my life so far, the meeting of my new home (America) and my old home (India) on one plate. Creamy, cheesy grits, and spicy, sweet shrimp...and that sauce! Oh that sauce! This recipe is what happens when the Indian South collides with the American one. Chullo (come on) y'all...get a little masala in yo' grits.
Ingredients
Marinade:
1 pound shrimp, fresh or frozen and thawed, peeled, tails on (ideally, under 15 count per pound)
1/2 teaspoon turmeric
1 tablespoon lemon juice

Masala:
4 cloves garlic, grated (about 2 teaspoons)
1 1-inch piece ginger, grated (about 2 teaspoons)
2 teaspoons paprika
2 teaspoons ground coriander
1 teaspoon ground cumin
1/4 teaspoon turmeric
1/4 teaspoon garam masala
2 tablespoons olive oil (plus more for frying shrimp)
1 large onion, finely diced, about 2 cups
1 Serrano pepper, sliced into thin half moons (seeded if you don't like things spicy)
2 tablespoons tomato paste
3/4 cup chopped ripe tomatoes
1/2 teaspoon honey
1/4 cup chopped cilantro leaves and soft stems

Grits:
4 1/2 cups water
1 cup coarse ground cornmeal aka grits
4 tablespoons unsalted butter
4 ounces sharp grated Cheddar cheese, about 1 cup

Directions
Marinate shrimp: Marinate shrimp in turmeric, lemon juice and 3/4 teaspoon kosher salt for 20 minutes at room temperature while you prep the rest of the ingredients.
Sear shrimp: Once you're ready to go, warm 2 tablespoons of oil in large heavy-bottomed skillet over medium-high heat until shimmering. Drain shrimp of any liquid, and carefully place each one in the skillet, ensuring that they don't touch each other (cook in batches if necessary). Cook until a light charred crust forms on the bottom, a couple of minutes, then flip and repeat on the other side too. Remove the shrimp to a bowl and set aside. Rinse and wipe out the skillet.
Make masala:Stir together garlic, ginger, paprika, coriander, cumin, turmeric and garam masala with 1/2 cup water in a small bowl. Set aside.
Warm another 2 tablespoons of oil in the skillet over medium-high heat until shimmering.
Add the onions and Serrano pepper to the skillet, along with a generous pinch of salt, and cook, stirring occasionally, until just brown around the edges, 5 to 7 minutes. Then cook for another 5 minutes, stirring near constantly, until the onions are more comprehensively brown and smell sweet.
Lower the heat to medium.
Now, add the garlic-spice mixture to the pan, along with tomato paste and tomatoes. Stir together well, and keep stirring until the whole mixture comes together. Then cook for another 5 minutes until the tomatoes turn almost mushy, the mixture darkens in color and holds together as one mass (ie. it doesn't spread out to the sides of the pan when you pull it into the center).
Season with honey and 3/4 of teaspoon kosher salt. Add 1 1/2 cups water, and simmer gently for 5 minutes, semi-covered.
Add the shrimp back in, turn heat down to low, cover and allow to warm through, about 5 minutes. Stir in cilantro and serve over grits.
Make grits: Bring water and 1 teaspoon kosher salt to a boil in a large saucepan over high heat. Pour in the grits, give them a good stir, and let them come back to a boil. At this point, they should have thickened; cover and turn the heat down as low as possible. Cook for 20 minutes, stirring every 5 to 10 minutes to make sure the bottom isn't burning. Taste them to make sure they're tender (if they're not, add a splash more water, cover and cook for another 5 minutes); now beat in the butter. Stir in the cheese, season with freshly ground black pepper and serve immediately.