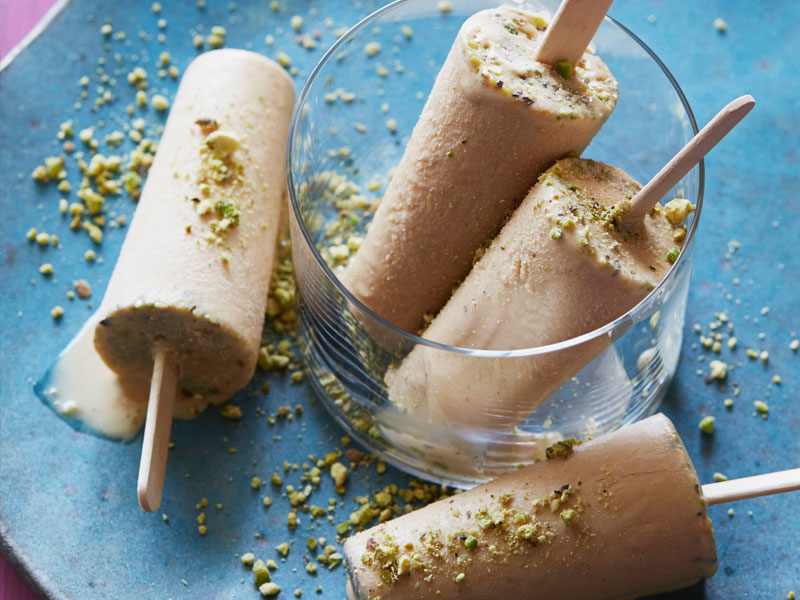 Kulfi Pops
Earl Grey & Cardamom Ice Cream Pops
Yields 6 to 8 servings
Active time: 5 minutes
Inactive time: 30 minutes plus freezing overnight
Total time: 35 minutes minimum
On a hot day in India, you'll see any number of folks gleefully and quickly licking cone shaped ice cream pops before they melt into a creamy puddle on the ground. This is my version of Ice Cream Kulfi. Just the mention of the word will send any Indian into waves of nostalgia for a childhood playing traditional Indian games like Carom, and more familiar ones like Hide and Seek. Or at least it does to this Indian chick. The traditional recipe is something of a pain in the rear (I suppose it's advance penance for the delicious calories ahead of you!): it requires making Khoa, milk that's been carefully cooked down to essentially, milk solids. Lucky for this Kulfi Pop fiend, there's an easier way. My recipe infuses the cream with Earl Grey tea, a slightly bitter flowery flavor that I think cuts through the sweetness of this dessert like a silk sari in a summer breeze.
Ingredients
One 12-ounce can evaporated milk
4 Earl Grey tea bags
1/2 teaspoon ground cardamom
One 14-ounce can sweetened condensed milk
1 cup heavy cream
Handful finely chopped pistachios, plus extra for garnish

Directions
In a small saucepan over medium heat, bring the evaporated milk to a simmer until small bubbles form around the circumference of the pot. Meanwhile, snip the tops of the tea bags and add to the evaporated milk. Whisk in the cardamom. Once the milk is simmering, turn the heat off, cover and let sit and steep for 30 minutes.
Strain the evaporated milk into a large bowl. Whisk in the condensed milk, heavy cream and pistachios. Pour the mixture into ice pop molds, small bowls or a baking dish. (Cover bowls with a piece of plastic wrap to avoid freezer burn and the formation of a "skin.") Pop them into the freezer and freeze overnight.
When you're ready to serve, run the ice pop mold under hot water to loosen it. You can do the same thing for the smaller bowls if you'd like to serve it as a little kulfi half dome. Garnish with more nuts if you like and serve.