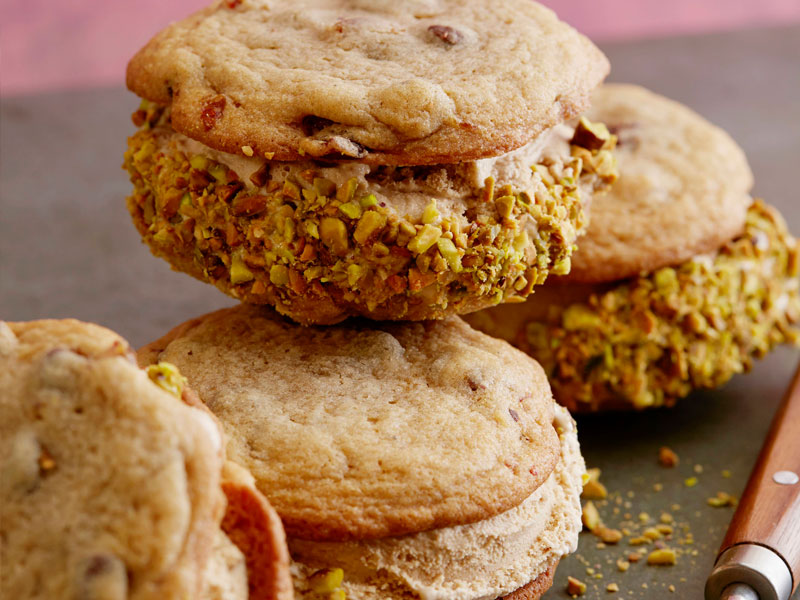 Nomad's Ice Cream Sandwich
Date-Chip Cardamom Cookies with Coffee Ice Cream
Yields 12 servings
Active time: 30 minutes
Inactive time: 1 hour 30
Total time: 2 hours
Dubai's ancestors were nomads (Bedouins), a lifestyle I always considered adventurous and possibly the ultimate act of surrender: imagine living on what the desert had to offer you! Perhaps that is why hospitality was, and is such an important part of Emirati culture. I remember learning that should you be invited into a Bedouin tent, you'd be treated to round after round of fresh dates and thick, cardamom-scented Arabic coffee, the kind you drink out of elegant thimble-like cups. When you were done, you had to shake the cup in a specific way or else they'd continue to serve you. It's those flavors (coffee, cardamom, dates), along with how refreshing it must have felt to sit in those dark tents, or in the architectural marvel that is the Emirati Wind Tower (Google it!), that inspired this Nomad's Ice Cream Sandwich dessert.
Ingredients
2 1/2 cups all purpose flour
3/4 teaspoon baking soda
1 teaspoon kosher salt
1 1/2 teaspoons ground cardamom
1/4 teaspoon freshly grated nutmeg
1 cup (2 sticks) unsalted butter, at room temp
3/4 cup dark brown sugar
3/4 cup granulated white sugar
1 teaspoon vanilla extract
2 large eggs
1 cup semisweet chocolate chips
1/2 cup roughly chopped (Medjool) dates
1 1/2 quarts coffee ice cream
1/4 cup minced pistachios

Directions
In a large bowl, sift or whisk flour, baking soda, kosher salt, cardamom and nutmeg.
Using a stand mixer or an electric hand mixer, beat the butter and sugars together in a large bowl until fluffy, scraping down the sides of the bowl. Then, beat in the vanilla and eggs.
Now add the flour mixture in two batches, gently beating until just combined. Stir in the chocolate chips and dates by hand, using a spatula. Make sure they are well dispersed through the cookie dough. Cover with plastic wrap and chill for at least 30 minutes and up to overnight.
When you're ready to bake, preheat your oven to 350 degrees Fahrenheit. Line two baking sheets with parchment paper.
Using a 1 1/2-ounce ice cream scoop or 1/4 cup measure (barely full), scoop 6 onto each baking sheet. Space them evenly, allowing plenty of room for spreading. Flatten the dough balls ever so slightly. Pop into the oven and bake for 12 to15 minutes, rotating and swapping pans around in your oven half way through to ensure even baking; you're looking for a golden brown edge but a pretty soft, puffy middle (this will harden as they cool). Remove from oven and set on wire rack to cool to room temperature. Repeat with remaining dough.
Line another baking sheet with parchment paper. Leave ice cream out for about 10 minutes to soften up. Place a ½ cup scoop of ice cream on a cookie, then gently push another cookie on top of it, swiveling it back and forth to flatten until ice cream squeezes to the edges. Roll the edges in the minced pistachios. Place on baking sheet and freeze to firm up for about an hour before serving.