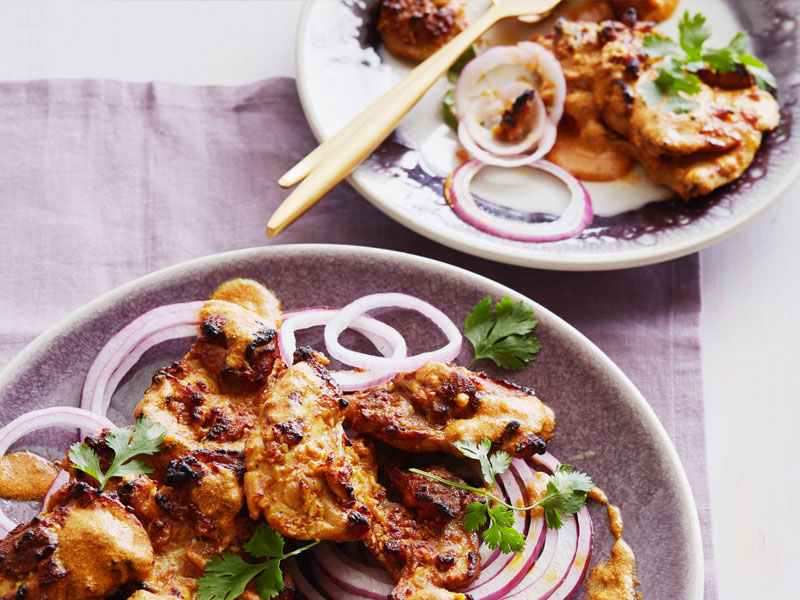 Tandoori Chicken
Yogurt + Spice Grilled Chicken
Yields 4-6 servings
Active time: 20 minutes
Inactive time: 30 minutes to overnight
Total time: 50 minutes
Step 1: DON'T FREAK OUT. There are a LOT of ingredients here, yes I know. That's why this qualifies as something of a special occasion dish, something I'd make for big cookouts with lots of family coming over. And it's worth it: this makes the most flavorful Tandoori Chicken I've ever had...and I don't boast *too* often. The name of this dish derives from the Hindi name for the oven used to cook the chicken: the tandoor. These days, a broiler does fine, although it's wonderful on the grill too!
Ingredients
Marinade:
2 dried guajillo chiles (or 2 chiles d'arbol, and more paprika for color)
5 whole cloves
2 green cardamom, green husks discarded, black seeds retained
1 teaspoon coriander seeds
1/2 teaspoon fennel seeds
1/2 teaspoon fenugreek seeds
1/4 teaspoon ground cinnamon
1/4 teaspoon paprika
1/4 teaspoon ground turmeric
Pinch cayenne pepper
2 tablespoons malt vinegar or lime juice
1 teaspoon kosher salt
1/4 cup oil canola or peanut oil
1 cup whole fat plain yogurt

8 cloves garlic, minced
2-inch thumb ginger, peeled and minced
½ cup water
1 teaspoon honey
3 pounds boneless skinless chicken thighs, about 12 thighs
Couple of extra limes for garnish

Directions
Toast the whole chiles, fenugreek seeds, coriander seeds, fennel seeds, cloves, and cardamom seeds in a cast iron skillet over medium heat, shaking the pan until fragrant (3 minutes or so). Throw into a spice grinder, and grind them until you get a fine powder.
In large bowl, whisk together the spice mixture, ground cinnamon, paprika, turmeric, cayenne pepper, malt vinegar/lime juice, salt, yogurt, garlic and ginger. It should smell amazing! Taste and adjust with more salt if it needs it.
Reserve 1/3 cup of the marinade and set aside; you're going to make a sauce out of this reserved marinade.
Prick the chicken thighs with a fork. Add the thighs to the rest of the marinade, and toss to coat. Marinate at least one hour, and at most overnight in the fridge.
When you're ready to cook, line a baking sheet with foil, and turn your broiler on. Place each chicken thigh on the baking sheet, making sure each one is coated with the marinade, but isn't swimming in it. Cook chicken thighs 4-5 inches under the broiler until mottled and starting to blacken about 7 minutes. Then turn oven down to 350, and cook another 10 minutes until a meat thermometer inserted in the meatiest part of the thigh registers 160. Remove from the oven.
While the chicken is cooking, pour reserved marinade into a small saucepan, along with 1/2 cup of water and 1 teaspoon of honey. Bring to a gentle boil over medium-low heat, whisking all the time, 5-6 minutes until thickened. Taste and season with salt and pepper. Remove from heat and pour into a small bowl or gravy boat for serving.
Serve the chicken thighs on a platter with a fresh squeeze of lime, and a drizzle of the sauce.