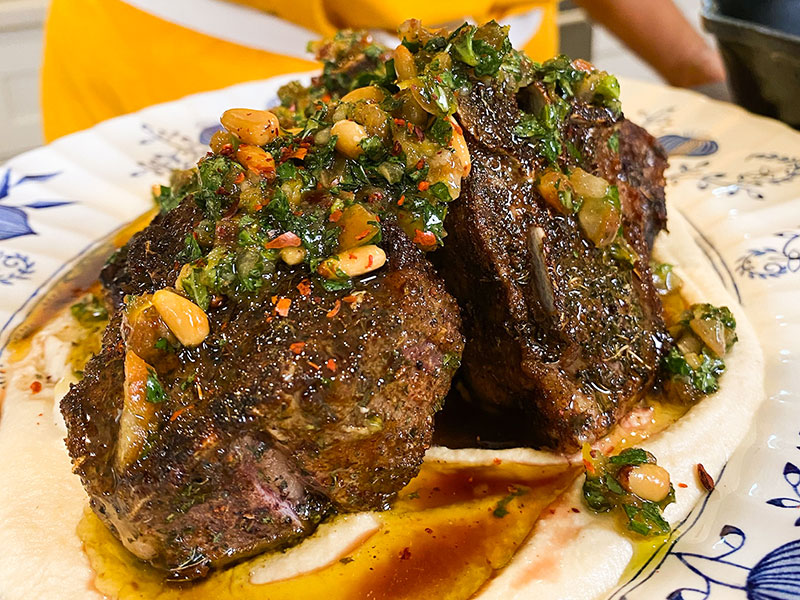 Lamb Chops with Hummus and Date, Mint, Pine Nut Salsa
Serves 4
Ingredients
8 lamb loin chops, (about 1/2-inch thick)
1 tablespoon kosher salt (Diamond Crystal)
2 teaspoons dried mint
1 1/2 teaspoon garam masala
1/2 teaspoon smoked paprika
3/4 teaspoon granulated garlic
1 teaspoon dark brown sugar
Freshly ground black pepper to taste
Avocado oil
Salsa
2 tablespoons pine nuts, toasted
1 clove garlic, grated
8 California dates, pitted and finely chopped (preferred: deglet noor dates)
1 1/2 cups mint leaves, lightly packed
Zest of 1 Meyer lemon
6 tablespoons Meyer lemon juice
6 tablespoons extra virgin olive oil
Kosher salt + freshly ground black pepper to taste
Aleppo pepper powder to garnish
Hummus (either homemade or storebought)
Directions
1) Stir together salt, dried mint, garam masala, smoked paprika, granulated garlic, brown sugar and black pepper in a bowl. This is your spiced dry rub!
2) Using a paring knife, score the fat on the sides of the loin chops (slice in a crosshatch pattern but not deep enough to slice the meat). Now, massage the lamb chops with the rub, like you mean it! Cover with plastic wrap and refrigerate overnight. If you don't have time to do that, let them sit at room temperature for 45 minutes.
3) If you're making hummus, make it now. Set aside.
4) Make salsa, stirring together all the ingredients except for the Aleppo pepper. Taste for seasoning and set aside.
5) Preheat oven to 400 degrees Fahrenheit.
6) Heat cast iron skillet over medium high heat. Add enough avocado oil to coat the bottom of the skillet. When it's hot enough that it shimmer, pop the chops on their sides, ie. Fat side down. lay the chops in a circle in the pan. Cook for 2 minutes, then flip. Pop into the oven and cook for 5 minutes until an instant read thermometer inserted into the deepest part of the chop reads 125 degrees fahrenheit. Allow meat to rest 5-10 minutes.
7) Meanwhile, spoon hummus onto your serving platter. Settle lamb chops on top of the hummus, drizzle salsa over the chops. Sprinkle with a little extra salt and some Aleppo pepper and serve immediately.