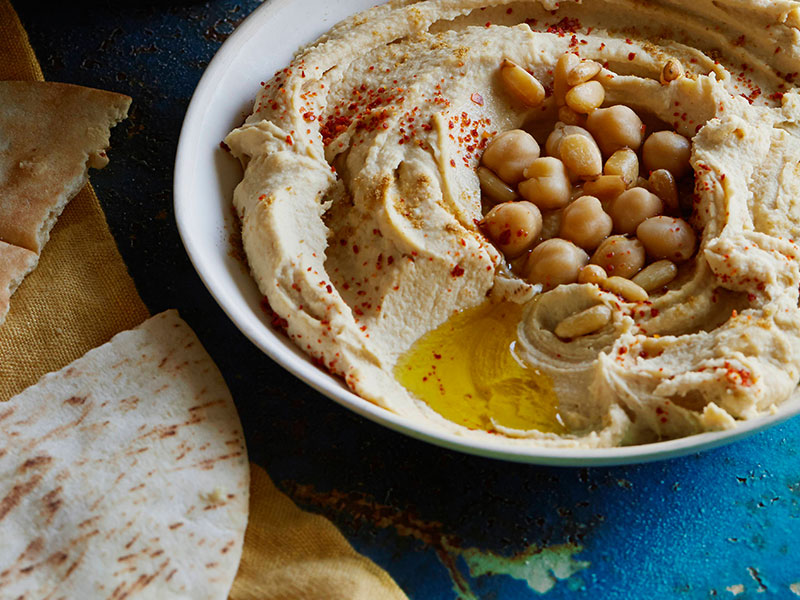 Real Deal Hummus
Makes 4 cups or 6 to 8 servings
Active time: 10 minutes
Total time: 10 minutes
Good hummus sends me right back home to Dubai, where the chickpea dip is a far cry from the stodgy, grainy and heartburn-inducing versions we get at the supermarkets here. Back home, hummus is so light and creamy that you have to close your eyes when you take that first bite, tucked into a steaming piece of pita, because to keep them open seems a little too personal, a little too intimate. Do you know what I mean? In any case, don't skip warming up the canned chickpeas before whizzing them up; it makes for a much smoother hummus. Oh, and try to get the best brand of tahini you can find. I buy mine at a Persian Jewish market which only stocks jars whose labels are written entirely in Hebrew! I figure that's a good sign.
Smaarti tip: The very best hummus is made from dried chickpeas; it's lighter in flavor has an even more ethereal texture. If you're willing to try, soak 1 1/2 cups dried chickpeas in enough water to cover by a couple of inches, along with 1 tablespoon baking soda (which encourages the peas to slough off their tough skins) overnight. The next day, rinse them well, cover with plenty of water and cook until tender, about 30 minutes. Drain and proceed with the recipe as written.
Ingredients
2 14-ounce can chickpeas, drained and rinsed (about 3 cups)
Kettle of boiling water
2/3 cup tahini
1/4 cup lemon juice (about 1 lemon's worth)
Big pinch lemon zest (plus extra for garnish)
1 teaspoon kosher salt (plus more to taste)
1 to 2 cloves garlic, chopped roughly
1/2 cup ice water
Extra virgin olive oil
Aleppo pepper or paprika
Ground cumin
1 tablespoon toasted pine nuts (optional)
Directions
First, set aside 2 tablespoons of chickpeas for garnishing.
Tumble chickpeas into a large bowl. Pour in enough boiling water to cover the chickpeas by a couple of inches. Allow to sit for 15 minutes. Then drain and immediately pour the warmed chickpeas into a food processor. Whizz them up for about 5 minutes, until a smooth paste forms.
Now, add tahini, lemon juice, lemon zest, salt and garlic. Buzz them for about a minute, making sure garlic is well processed. Now, with machine on, pour in the ice water and let the machine run for at least 5 minutes (set a timer, because it's longer than you think it is!). Taste for seasoning and adjust accordingly, adding more tahini, lemon juice, salt or garlic.
To serve it like they do back home, spoon the hummus onto a plate or flat bowl. Use the back of the spoon to create pretty waves (think sand dunes!), and a big pool in the centre. Pour the good extra virgin olive oil in the back of your cabinet in the centre. Not too much. Drop the chickpeas and pine nuts in the center. Sprinkle the perimeter with Aleppo pepper (or paprika) and ground cumin at intervals. Drop a dash into the oil too. Sprinkle with lemon zest. I like hitting it with a little lemon zest too. It's best served at room temperature. It tends to tighten up in fridge, but stir in a couple of teaspoons of warm water, and it'll be right as rain again!