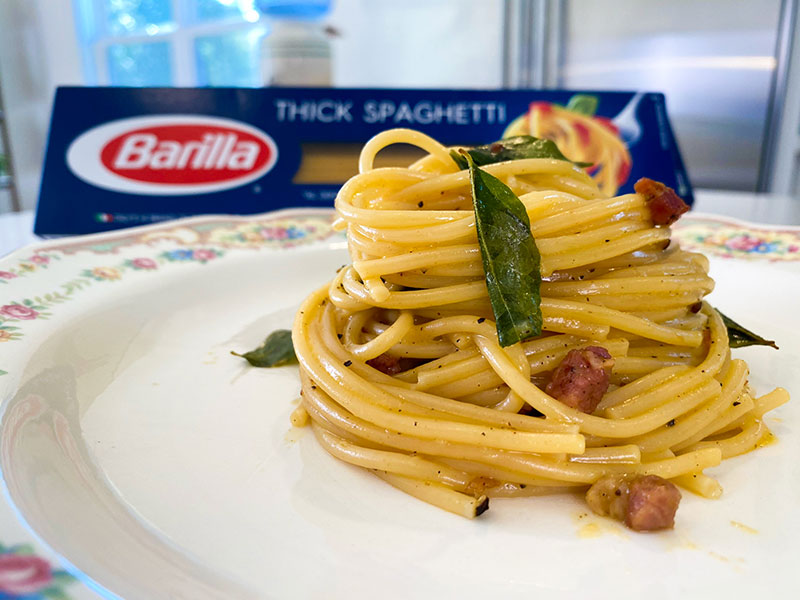 Curry Leaf Carbonara
Serves 4 -6 people
Cook's Note: Curry leaves are an essential part of South Asian and Southeast Asian cooking. The hunter green almond-shaped leaves pack a "pow" of flavour and aroma, with a bouquet of lemon balm and pepper, with a beautiful layer of earthiness. It's hard to replicate, but fresh bay leaves come close.
Ingredients
8oz pancetta, cubed
2 tablespoons avocado oil
2 teaspoons black peppercorns (preferred: Tellicherry), coarsely ground
2 large cloves of garlic, smashed
3 to 4 sprigs of fresh curry leaves, leaves only
4 large egg yolks
2 large eggs
1 cup grated cheese, such as Dama Sagrada, Parmigiano, Pecorino
Kosher salt
1 pound Barilla thick spaghetti

Directions
1) Fill a large pot with water, big enough to cook the spaghetti. Bring to a boil.
2) Place pancetta, oil and garlic in a large saute pan over medium heat. As it starts to sizzle and the fat renders out of the pancetta (3-4 minutes), add the peppercorns and the curry leaves. Cook, stirring often until pancetta is crispy. Drag the mixture to the side of the pan so it doesn't keep cooking, and keep warm over the very lowest setting.
3) Whisk egg yolks, eggs and cheese together in a medium bowl until well combined. Set aside.
4) Season the water like the ocean. Add the spaghetti, and cook until al dente, about 10 minutes. Scoop out 1 cup of pasta water, and drain the pasta.
5) Slowly pour about 1/4 cup of the pasta water into the egg mixture, whisking thoroughly, until mixture is well combined.
6) Add the pasta to the pan and toss well, covering each stand in the delicious curry leaf-pancetta fat. Turn the heat off. Simultaneously, pour the egg mixture into the pasta a little at a time, whilst tossing vigorously, ensuring that the pasta is well coated. Once you've added all the egg, if the sauce looks thick, drizzle in a little pasta water, then toss again. The sauce should be creamy but silky. Serve immediately!