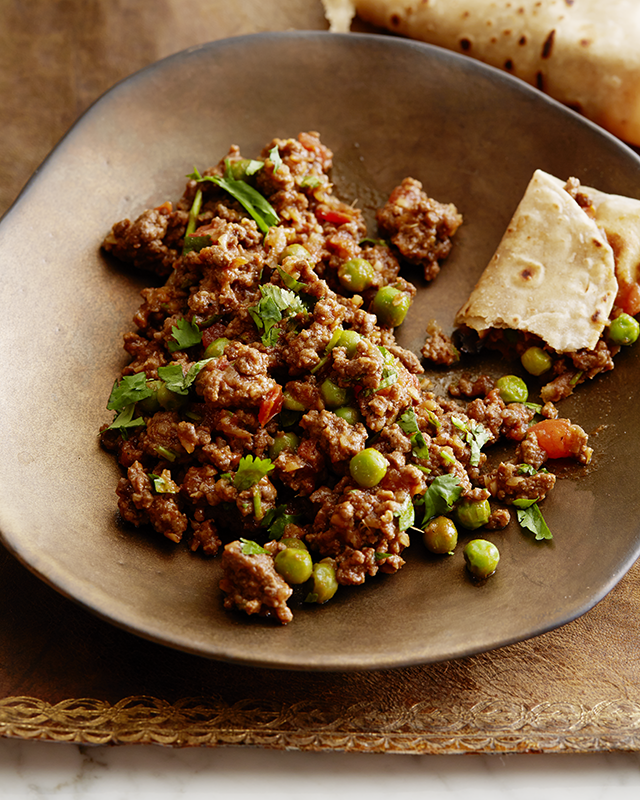 Ingredients
2 pounds ground beef (preferably grass-fed, 80% fat-20% lean)
1 medium yellow onion, finely diced (about 1 cup)
8 cloves garlic, minced
2-inch thumb ginger, peeled and minced, about 2 tablespoons
1 tablespoon ground coriander
2 teaspoon paprika
1 teaspoon garam masala
1 teaspoon ground cumin
1/2 teaspoon cayenne pepper (optional)
1/2 teaspoon turmeric
3 medium ripe tomatoes, chopped (or canned fire roasted diced tomatoes, drained; either way about 1 1/2 cups)
1/2 cup water
Kosher salt and freshly ground black pepper
1 cup frozen peas
2 teaspoons malt vinegar (or apple cider vinegar)
1/4 cup chopped freshly cilantro leaves and stems
Directions
1) In a large skillet warmed over medium-high heat, add the meat. Break it up with spoon, season with salt, and cook until no longer pink. Remove meat from the skillet using slotted spoon.
2) Add the onions, season with salt and sauté until they're golden brown, about 5 minutes. Add the garlic and ginger, cook for another minute, stirring often, then add the ground coriander, paprika, garam masala, cumin, cayenne pepper and turmeric. Saute, stirring often to keep the spices from burning for about 30 seconds.
3) Add the beef, and stir well to coat every morsel with the spices.
4) Add tomatoes, season with a pinch of salt and stir well. Cook until tomatoes start to soften.
5) Pour in water. Stir well, cover, and turn heat down to low. Cook about 10 minutes.
6) Add the peas and cook another 5 minutes. Stir in the vinegar and chopped cilantro. Taste for seasoning and serve!