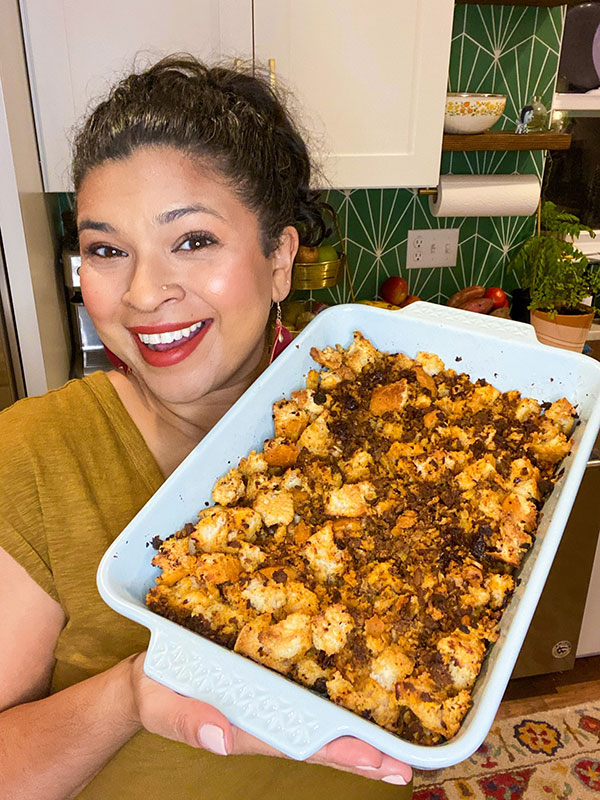 Date and Chorizo Stuffing
Ingredients
2 ciabatta loaves or baguettes, about 1 pound total, ends and bottom crust trimmed and discarded
6 tablespoons avocado oil
2 cups low-sodium chicken broth
14 ounces Mexican style pork chorizo
2 teaspoons malt or apple cider vinegar
5 California dates, pits removed and chopped finely
1 fennel bulb, stalk discarded, cored, and diced finely (1/2-inch pieces)
1 large onion, diced finely
2 cloves garlic, minced
1-inch piece ginger, minced
1 teaspoon garam masala
1 teaspoon oregano
1/4 cup cilantro leaves and soft stems, minced
Directions
1) Preheat oven to 450 degrees Fahrenheit, positioning oven rack in the middle.
2) Tear bread into bite-size pieces, about 1-inch, and place in a large bowl. Drizzle with 3 tablespoons oil, season with salt and toss until bread is well coated. Tumble onto a rimmed sheet pan. Pop into the oven for 5 minutes, until bread is starting to brown. Toss the bread using a spatula, then toast for an additional 5-7 minutes. Remove from the oven and set aside on a heat mat. Pour broth over the bread, evenly, and set aside while you work on the rest of the stuffing.
3) Set two skillets on the stove over cold burners. Empty chorizo into one skillet and set over medium heat, stirring every now and then to break up clumps. Cook until chorizo is crispy and even charred in places. Turn off heat, and stir in vinegar and dates. Set aside.
4) Meanwhile, in the other skillet, add 2 tablespoons oil and fennel. Sprinkle with a little salt, and set over medium heat. Cook, stirring often, until fennel has softened. Now add onions. Continue to cook until softened. Add garlic, ginger, garam masala and oregano. Stir constantly for 30 seconds, to open up the spices and cook the garlic and ginger. Turn off the heat.
5) Add chorizo mixture to fennel mixture, stir well, then pour over the toasted bread. Toss until very well combined.
6) Grease a 13x9 baking dish with 1 tablespoon of oil. Pour bread mixture into the dish, spreading into an even layer.
7) Put the whole lot in the oven for 20 minutes. Toss well, then bake for another 20 minutes. Garnish with cilantro and serve.