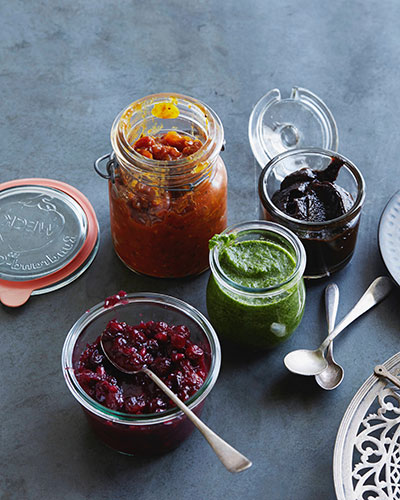 Ruby Red Chutney
Cranberry Pomegranate Chutney with Orange, Black Peppercorns & Coriander
Makes about 2 ½ cups
Active Time: 30 minutes
Total Time: 1 hour fifteen minutes (includes cooling time)
This beauty came about at Thanksgiving. I was trying to breathe new life into cranberry sauce, which I just can't live without on that special day. I suppose it's because it does remind me of the chutneys and pickles of my childhood. This one went over huge, and when we did a leftovers party at a friend's house the next day, I wisely saved one jar for us, whilst bringing another to the party. Wise indeed. It disappeared!
Ingredients
1 1/2 teaspoons whole black peppercorns
1/2 teaspoon whole coriander seeds
1 tablespoon grapeseed or canola oil
3/4 cup finely chopped shallots (about 3 medium shallots)
1-12-ounce bag fresh or frozen cranberries (about 3 cups)
1/2 cup granulated sugar
Juice of one orange (about ¼ cup)
1/4 cup water
2 teaspoons orange zest (about ½ orange)
1/2 cup fresh pomegranate seeds
Directions
Grind black peppercorns and whole coriander seeds together in a spice grinder or a pestle and mortar until fine. Set aside.
In a small saucepan, combine oil, shallots and the spice mixture. Season with a little salt. Set over medium heat and cook until softened but not brown, 2-3 minutes. Careful – you might find yourself sneezing!
Add cranberries, sugar, juice and water. Bring to a boil, then turn the heat down so that the contents of your pot are at a gentle simmer. Cook for about 10 minutes, or until most of the cranberries burst.
Off heat, gently stir in the orange zest and pomegranate seeds. Taste for seasoning. Allow to cool to room temperature, about 45 minutes. Pour into a jar and store in the fridge for a couple of weeks.