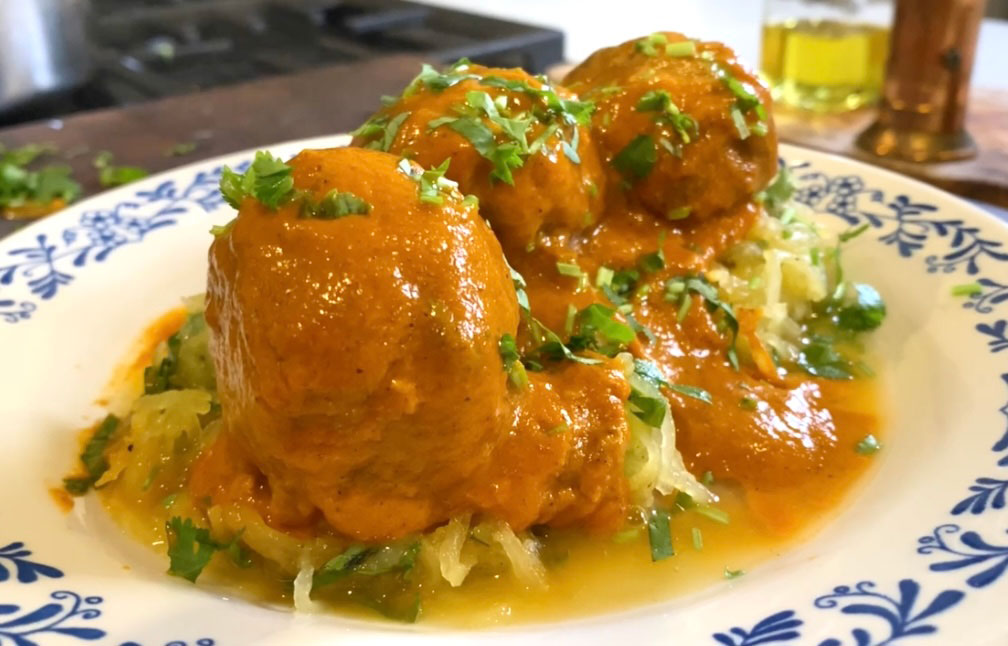 Tikka Masala Meatballs & Seasoned Spaghetti Squash
---
1 large spaghetti squash, sliced in half vertically
Olive oil
Kosher salt
Freshly ground black pepper
Juice of 1 lime
Handful minced cilantro
1 teaspoon ground cumin
1/2 teaspoon amchoor aka dried green mango powder (optional)
Meatballs:
1 pound ground beef
1 pound bulk sweet Italian sausage
1 cup frozen cauliflower rice, thawed and drained of excess water
1/2 cup almond flour
1 large egg
1 teaspoon garam masala
3/4 teaspoon granulated garlic
Handful of finely minced cilantro stems

Sauce:
3 tablespoons unsalted butter
2 teaspoons olive oil
6 cloves garlic, minced
2-inch thumb ginger, minced
1 serrano pepper, seeds and membranes removed, minced
2 tablespoons tomato paste
2 teaspoons paprika
1 teaspoon garam masala
1 tablespoon dried fenugreek leaves
14-ounce can fire-roasted crushed tomatoes
2/3 cup water
1 cup heavy cream or plant-based creamer (recommended Nutpods almond + coconut unsweetened creamer)
2 tablespoons honey
Directions
1)Preheat oven to 400 degrees Fahrenheit.
2)Prep a sheet pan with parchment paper or aluminium foil.
3)Slice the top and bottom of the spaghetti squash, so you have a flat base. Slice in half vertically. Scoop out the seeds, and discard. Place on sheet pan, drizzle with olive oil, then sprinkle liberally with salt and pepper. Rub insides well, then flip over (so skin faces up), and pop into the oven on the middle rack, for 45 minutes.
4)Meanwhile, prep the meatballs. First, prep another sheet pan with parchment paper or foil. Mix ground meatball ingredients together, by hand, in a large bowl (I like to use disposable gloves for this task), making sure to season well with 1 teaspoon salt and lots of freshly ground black pepper. Do this gently, mixing until ingredients are just combined and evenly distributed; don't overmix! Divide and roll to make 16 even meatballs. Place on the baking sheet, and roast, alongside the squash about 20-25 minutes.
5)Lastly, make sauce: In a large nonstick wok or high-sided skillet, melt butter and oil together over medium heat. Add garlic, ginger and serrano peppers (along with a pinch of salt); saute until fragrant, a couple of minutes.
6)Now add tomato paste, and cook, stirring often, until deepened in colour.
7)Sprinkle in paprika, garam masala and fenugreek leaves. Saute for 30 seconds to 1 minute, until fragrance doesn't smell raw.
8)Pour in tomatoes and water. Stir well. Season with a little more salt and pepper. Bring to a boil, then bring down to a simmer. Cook, stirring every now and ten, about 20 minutes, until thickened.
9)Pour sauce into a blender and whizz up until smooth. Pour back into the pot. Stir in honey and creamer.
10)Lastly, add meatballs to sauce, and cook for 10 minutes, uncovered.
11)For the squash: scrape out the insides into a large bowl. Drizzle with some olive oil, lime juice, cilantro, cumin and amchoor (if using), along with some salt and pepper. Toss, and taste for seasoning. It should taste light and bright.
12)Serve squash alongside meatball tikka masala!