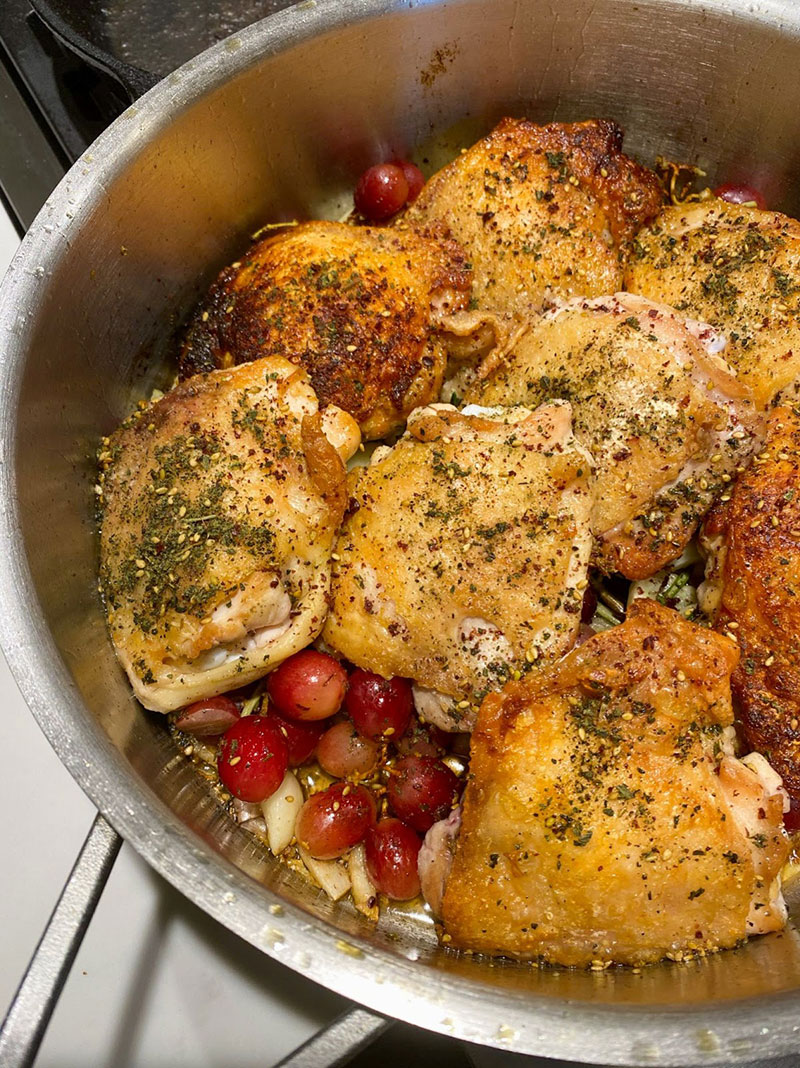 Chicken Thighs with Roasted Grapes, Fennel, and Zaatar
Ingredients
Neutral oil such as avocado
8 large bone-in, skin-on chicken thighs
2 medium bulbs of fennel, cored and sliced thinly crosswise (save fronds for garnish)
1 bulb of garlic, peeled
2-3 cups seedless red grapes, kept in small clusters
2-3 sprigs of rosemary
Sherry vinegar
Zaatar
Sumac
Directions
1) Preheat oven to 400 degrees Fahrenheit.
2) Add 2-3 tablespoons of oil to a large, high-sided skillet over medium-high until simmering.
3) Sprinkle the chicken thighs with salt on both sides. Place the thighs skin-side down in the pan. Cook without moving around, until skin is golden brown. Flip and allow bottoms to brown for a couple of minutes too. Remove from the pan and set aside.
4) Add fennel, garlic cloves, rosemary, and grapes into the pan. Season with salt and pepper. Cook until they are just starting to soften.
5) Add chicken back into the pan, skin-side up. Sprinkle with a generous amount of zaatar and sumac.
6) Put your thumb over the top of the vinegar bottle, and drizzle a little around the pan, being careful not to get any on the crispy chicken skin!
7) Pop the pan into the oven and roast for 10 minutes. Then, scoop up some of the juices and drizzle over the chicken. Roast another 10 minutes until the thermometer (inserted into the deepest part of the meat without touching bone) registers 160 degrees Fahrenheit. Remove from the oven and allow to stand 10 minutes.
8) Serve with something to sop up all those delicious juices (rice, bread, mashed potatoes)!