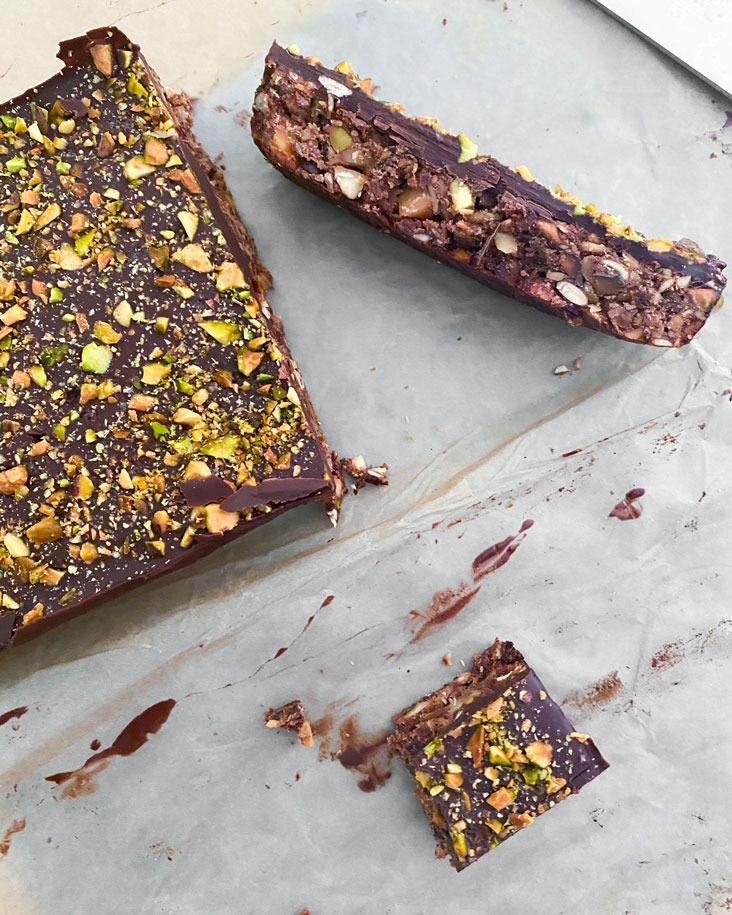 Date Energy Bars with Vanilla, Orange Zest And Chocolate
Ingredients
5 1/2 ounces (by weight) pitted California dates (about 20)
1/2 cup (3 ounces) raw almonds
1/2 cup (3 ounces) raw, shelled pistachios, plus extra for garnish
1/4 cup (1 ounce) raw pumpkin seeds
1/4 cup (1 ounce) sunflower seeds
2 tablespoons cacao nibs
1.5 tablespoons dried orange zest, plus extra for garnish
1 teaspoon vanilla extract
2 tablespoons creamy almond butter

Chocolate glaze:
1 tablespoon coconut oil
4 ounces semi sweet chocolate chips
Flaky salt
Directions
1) Preheat oven to 300 degrees Fahrenheit. Line a 5.5" x 10.5" loaf tin with parchment paper; allow a portion to hang over the sides.
2) Soak dates in boiling hot water for 10 to 15 minutes.
3) Meanwhile, roast nuts and seeds: lay out almonds, pistachios, pumpkin seeds and sunflower seeds on a parchment-lined baking sheet. Roast for 20 minutes until aromatic. Remove from oven and allow to cool.
4) Pour nuts and seeds into food process, and pulse until coarsely chopped. Pour into a large bowl, add cacao nibs, and season with salt.
5) Now, strain the dates, but keep the water. Add dates to the food processor, along with 5 tablespoons of reserved hot water, orange zest, vanilla extract and almond butter.
6) Process for about 5 minutes, pausing machine to scrape down the sides of the bowl, until a smooth paste forms.
7) Pour paste into nut mixture and stir until well combined. Then, spoon into the prepared loaf tin. Press down with a spatula to compress the mixture, then use the bottom of a glass to press it down even further.
8) Bake for 35-45 minutes, until browned and somewhat firm to the touch.
9) Remove from the oven and press down again with a glass. If you have a matching loaf tin, pop it into the prepared tin, so that as the bars cool, they remain compressed.
10) Once bars have cooled to room temperature, melt coconut oil and chocolate chips in a small bowl set over a gently simmering saucepan of water. Stir until smooth then pour over the top of the baked bar mixture. Smooth with a spatula, then top with extra pistachios, a little extra dried orange zest, and some flaky salt. Refrigerate until the chocolate has set.
11) Slice into bars with a sharp knife that you've run through some hot water. Store the bars in an airtight container; you can keep them at room temperature but I prefer them cold!