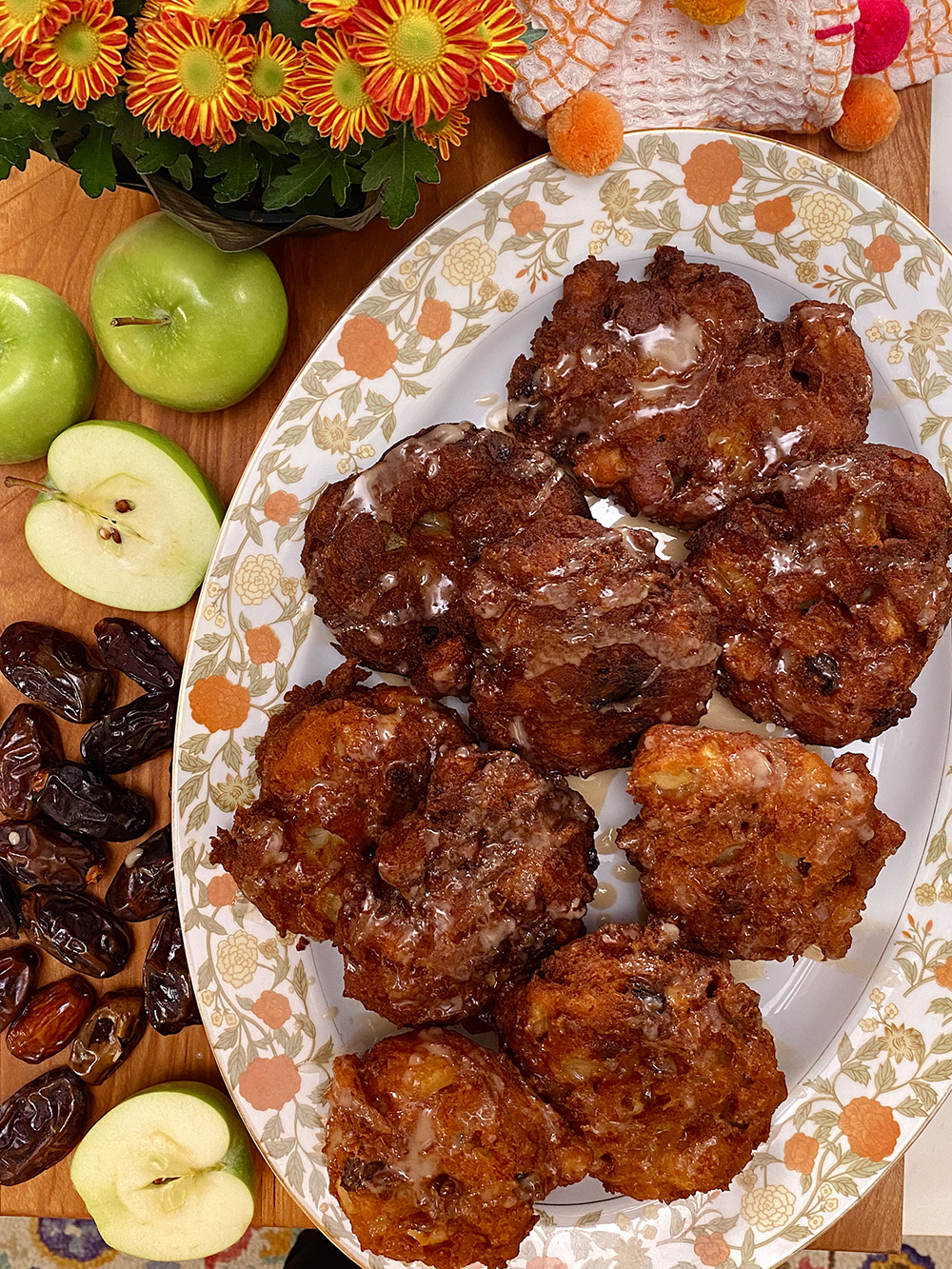 California Date and Apple Fritters
Makes about 9 Servings
Cook's note: If you don't feel like making the glaze, you could drizzle a little date syrup over the top and call it a day! If you do decide to make the glaze, try adding a wee splash of Calvados (apple brandy) to intensify the apple flavors.
Ingredients
3 small granny smith apples (about 14 ounces total), peeled, cored, 1/4-inch dice
5 to 6 whole California medjool dates, pitted and minced (about 1/3 cup)
2 cups all purpose flour
1/3 cup date or white granulated sugar
1 tablespoon baking powder
1/2 teaspoon kosher salt
1 teaspoon ground coriander
1/2 teaspoon ground cinnamon
1/4 teaspoon ground nutmeg
3/4 cup apple cider
2 large eggs
2 tablespoons melted (and cooled) unsalted butter
Oil for frying (canola, vegetable or peanut)
Glaze:
2 cups confectioner's sugar
1/4 cup apple cider
1/4 teaspoon cinnamon
1/4 teaspoon ground nutmeg
1/4 teaspoon ground coriander
Directions
1) Preheat oven to 200 degrees Fahrenheit (this is to keep finished fritters warm). Grab two baking sheets and cover each with three layers of paper towel. Set a wire rack in one of them and pop that one into the oven.
2) Spread apples on remaining paper-towel lined baking sheet. Pat apples dry thoroughly with extra paper towels.
3) Whisk flour, sugar, baking powder, salt, cinnamon, coriander and nutmeg together in a large bowl. Add apples and dates, and stir to coat every piece well with flour mixture.
4) In another bowl, whisk apple cider and eggs together. Stir this into the apple-date mixture.
5) Pour oil to a 12-inch cast iron skillet to a 1/2 depth. Heat over medium heat until it reaches 325 degrees Fahrenheit.
6) Grease a 1/3 cup measuring scoop, then scoop up mixture and drop into the oil. Repeat three more times. Press down on each mound to flatten a little. Fry until golden brown on each side, about 5 to 7 minutes, flipping halfway through. Using a slotted spoon or spider, remove each fritter and lay on wire rack-laden baking sheet. Set in the oven to stay warm. Repeat with remaining batter, ensuring that oil is back up to 325 degrees Fahrenheit.
7)Apple cider glaze: Whisk glaze ingredients together in a medium bowl until smooth. Drizzle over the warm donuts using the whisk or a spoon. Serve.