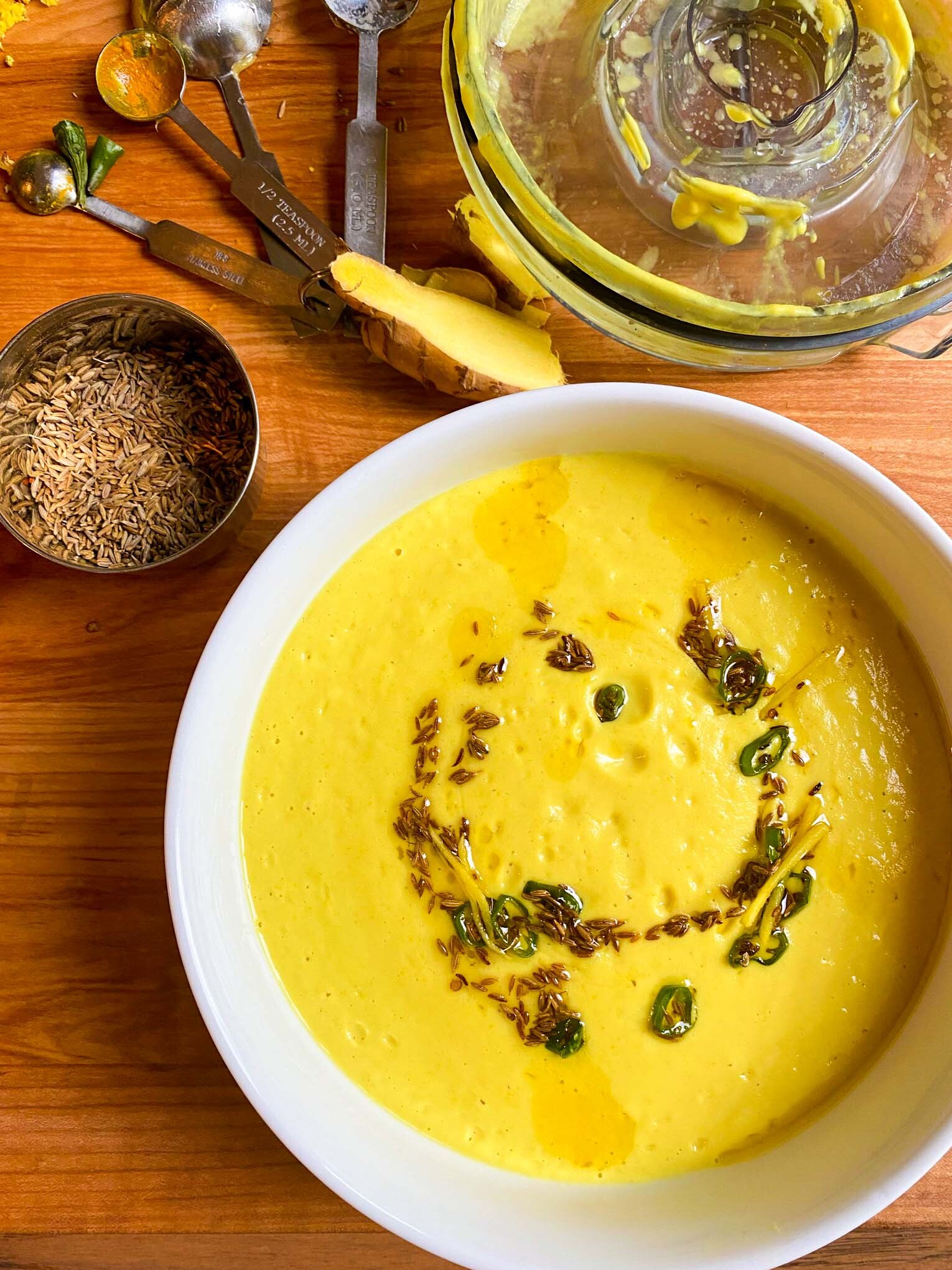 Aloo Gobi Soup
Serves 4-6
Ingredients
Soup:
1/3 cup neutral oil (recommended: avocado oil)
2 tablespoons water + 3 cups for blending
1 tablespoon lemon juice
2 teaspoons grated ginger
2 teaspoons grated garlic
3/4 teaspoon ground coriander
1/2 teaspoon ground turmeric
1/4 teaspoon ground cumin
2 teaspoons kosher salt
Freshly ground black pepper
1 medium cauliflower (1 1/2 pounds) 12 ounces new potatoes
Tadka:
2 tablespoons ghee or neutral oil
1 serrano pepper, seeds and membranes removed, sliced thinly
1-inch piece ginger, julienned
1 1/2 teaspoons cumin seeds
Directions
1) Line a baking sheet with parchment paper or foil. Pop into a 400 degrees Fahrenheit, and allow the baking sheet to warm up with your oven as you prep the cauliflower and potatoes.
2) In a large bowl, whisk together oil, water, lemon juice, ginger, garlic, spices, salt and pepper.
3) Remove outer leaves from the cauliflower and discard. Slice in half, then remove the core from each half by cutting a "v" from the center of the core outwards. Separate the florets, cutting them to 1-1.5 inch pieces where necessary. Drop into the bowl with the ginger-garlic marinade.
4) Slice new potatoes into half, slicing larger one into quarters so they match the size of the cauliflower florets. Toss with the cauliflower in the marinade until each piece is covered in the mixture.
5) Remove baking sheet from the oven, spread vegetables evenly on it, then pop back into the oven, roasting for 40 minutes, stirring halfway. You're looking for caramelized, tender veggies.
6) Once cooked, allow to cool for 5 minutes on the pan. Pour 3 cups of water into blender jar. Add vegetables and blend until smooth. Taste and adjust for seasoning. Pour into serving bowl.
7) Warm ghee/oil in a small skillet over medium heat until shimmering. Now add Serrano pepper and ginger, cook until fragrant. Stir in cumin seeds and cook until they darken in color and release their fragrance. Quickly, pour over the soup. Stir through and serve.