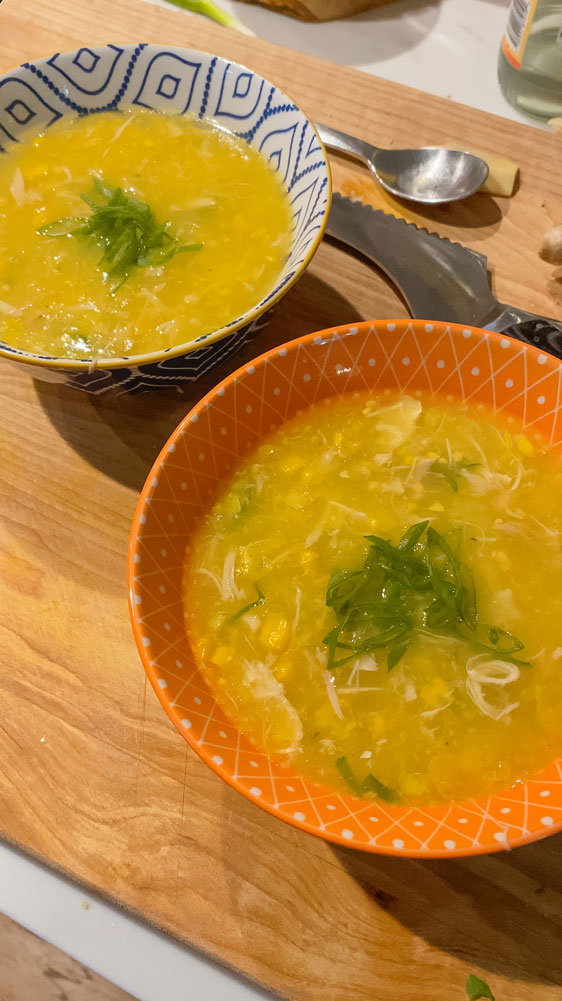 Tiger vs. Dagon Soup
Indo-Chinese Chicken & Corn Soup
Ingredients
Bouquet garni:
1 teaspoon coriander seeds
1 teaspoon black peppercorns
2 dried bay leaves
1 star anise pod
Soup:
1 large leek, rinsed very well; white and light green portion sliced into thin half moons, dark green leaves left intact
1 medium carrot, peeled and cut into ¼" slices on the bias
1 3-inch thumb ginger, peeled and minced, about ¼ cup
2 chicken leg quarters (ie. thigh attached to drumstick), skin on, about 1 pound
3 (14-ounce) cans creamed-style corn
2 chicken bouillon cubes, crumbled
1 teaspoon sesame oil
1/4 cup cornstarch
1/4 cup cold water
2 egg whites
1 teaspoon unseasoned rice vinegar
Kosher salt and freshly ground black pepper
Soy sauce, for serving
4 scallions, chopped finely, white and green parts (reserve some green for final garnish)
Directions
1) Make the bouquet garni: Place the coriander, peppercorns, bay leaves and star anise into a small square of cheesecloth. Tie with kitchen string. (Alternatively, you can secure all the spices in a large tea ball!).
2) Pour 10 cups water into a big soup pot; add bouquet garni, leeks (tough dark green leaves, and tender half-moon slices), carrots and ginger. Bring to a boil over high heat.
3) Now add chicken. Bring back up to a boil, then turn down to a simmer. Cook, covered, until chicken is cooked and tender, 20 to 30 minutes.
4) Using a pair of tongs, remove the chicken and allow to cool. You now have a choice: I like to pluck out the dark green leek leaves and bouquet garni, but leave the rest of the vegetables in the soup because this Indian lady can't stand the sight of wasted veggies! But if that doesn't bother you, or if it seems like too much of a hassle, just strain the stock altogether and discard all the solids.
5) Return the stock to medium heat. Add the creamed corn, bouillon cubes, and sesame oil. Keep the soup at a gentle simmer while you remove the chicken from the bone and shred finely using a fork. (Or you can just slice it really thinly.)
6) Turn up the heat to high and bring the soup to a boil. In a small bowl or measuring cup, mix the cornstarch with the water until smooth. Add half of this slurry to the soup whilst stirring. The soup will thicken as it boils; if it doesn't thicken to the consistency of your liking, add remaining slurry.
7) Turn the heat back down to medium. In another small bowl, beat the egg whites with a little water. Stir the soup in circles as you add the egg whites in a steady stream; it should form pretty white wisps on the surface of the soup.
8) Add the shredded chicken and rice vinegar. Cook for 5 minutes, allowing everything to warm through. Taste for seasoning. Serve with a splash of soy sauce and some of the reserved scallion greens.

Active time: about 1 hour
Total time: about 1 hour
Makes/serves: 12 cups, 6-8 servings